I remember once describing Cat Bordhi's directions for making short rows – wrapping stitches and then picking up the wraps – as being worth their weight in gold. The neatness and tidiness hasn't ceased to amaze me, even though I've used the technique several times now. Of course I have to share the result with you: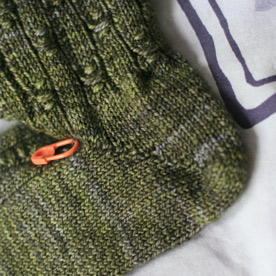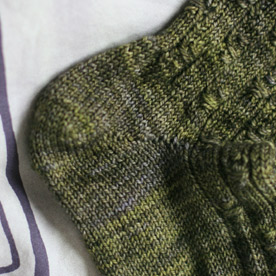 Do you see what I mean? Each and every time, perfection. You can find the full instructions in Ms. Bordhi's New Pathways for Sock Knitters
on pages 14-15, if you're so inclined.
The beautiful pattern accompanying those beautiful heels is the previously mentioned Punctuated Rib socks from Knitting Socks with Handpainted Yarn
. The yarn? Madeline Tosh superwash merino in Lichen. I think we can all agree it's another winner in this sock equation.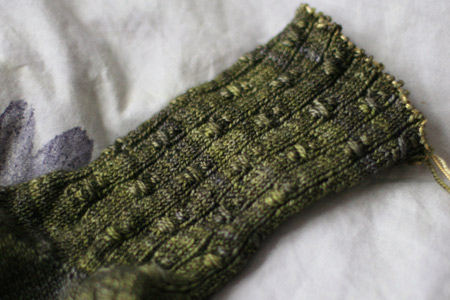 I'm tempted to say that I'm knitting these socks without any modifications to the original pattern, but that's not entirely true. It's just that my changes don't alter the original intent of the design at all! A different cast-on, wrapped short rows instead of yarn over ones, fewer plain rows above the heel, I'm mirroring the left and right socks, and I'll probably finish with a different cuff because I don't want the top of the sock to be too tight… miniscule details, the pattern is fab!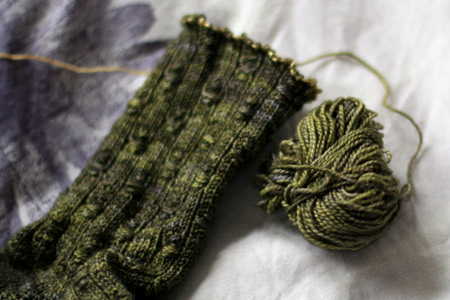 You may have noticed that I have my sock-in-progress on a length of waste yarn (the few yards I have left over from the Dolphin lace scarf, to be precise). Nothing's the matter; I'm just being indecisive about how tall I want to make these socks.
As many knitters do with their toe-up creations, before starting I evenly divided the skein in two. So, all of the yarn hanging off of the sock-in-progress can potentially become a part of the first sock. We're talking 2″, easy, if not more. But instead of committing to a leg height, I put the first sock on hold and started the second: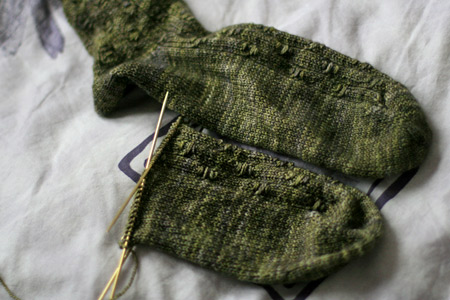 Oh, so lovely! Leg height decisions will wait :). Also, didn't the designer recommend that we use larger needles for the leg portion of the sock? I guess I can think about that, too, at least for the calf portion of the sock (the ankle part is done). All of that only when the second sock reaches the same point as the first – for now, I just knit, no thinking ;).
0
likes