With the weather the way it's been – monochromatic, either white, gray, or black – a little splash of color is just the ticket, don't you think? Thoughts of green leaves, pink flower petals and long-lasting blue skies can instantly transform our moods…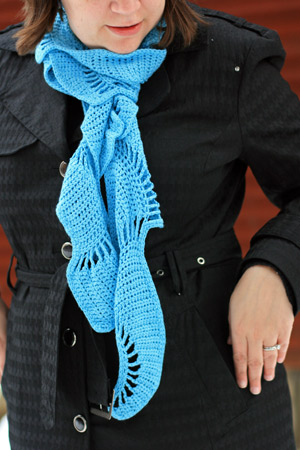 Though I'm reporting this FO in 2009, it was actually completed during the last week of 2008. And I think it's quite a pleasant project to wrap up the year – a harbinger of the happy things to come!
The inspiration behind this seemingly impossible (for me!) project and many of the details can be found in this post. For tidiness and completeness, allow me to summarize:
Project: Boteh Scarf by Kathy Merrick, appearing in the Spring 2007 issue of Interweave Crochet and available as an individual pattern in the Knitting Daily online store.
Yarn: Eden Madil, 100% bamboo, color 629. Four skeins at 109 yards/50 grams each, used up nearly in their entirety.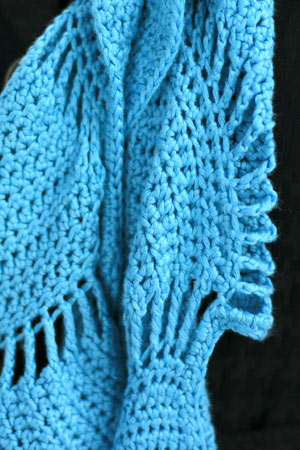 This yarn, or rather, working with this yarn (versus wearing this yarn), is my only complaint. There are no two ways about it – it is splitty. Eighteen slippery plies, all hell-bent on sabotaging this novice crocheter. While working, I had to be extremely careful in catching all the plies with every stitch. On a few occasions I had to rip back to correct misplaced plies, and it was irritating each and every time.
Maryse (bless her and her crochet-pushing soul) warned me that the hdc edging would eat up a lot of yarn. And boy, did it ever! Thanks to her warning, I realized early on that I had left too little yarn to go around the entire scarf's perimeter, and so had to frog only minimally. For the number-inclined, this 190-gram scarf has 31 grams' worth of edging, the remainder (159 g) being the main triangles (of which there ended up being 16, just as the pattern recommends).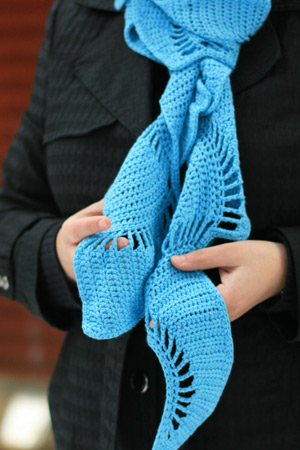 Crochet hook and tension: US G-6/4.00 mm hook, 18 sts and 12 rows = 4″ in hdc before blocking.
Finished size: after blocking, about 6½" wide and 78″ long. This is the size when the scarf is all neatly and flatly laid out on the floor. When worn, with a little help from gravity, the scarf twists on itself, narrows, and lengthens. A "long, skinny scarf" is what the kids call them, I think ;). It will be absolutely perfect for the spring – so soft and so bright.
0
likes