With a number of time-intensive projects out of the way (or almost out of the way), I am happily scheming something nupp-licious.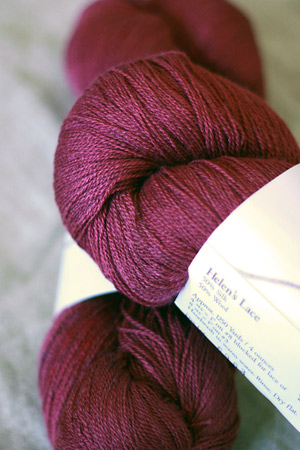 Lorna's Laces
Helen's Lace | 50% silk, 50% wool |
Cranberry
colorway (45ns)
Helen's Lace is a fantastic yarn: soft, bouncy, easy to knit, and easy to block. I've used it with pleasure twice before – my grandma's Misty Morning Shawl, and the sample Toe The Line Shawl for Chrissy Gardiner.
Each of those shawls required less than a skein of Helen's Lace, and each of those shawls came out plenty big! This time around, as you can see, I've bought 2 skeins (from Linda, as usual). That's a total of 2500 yards of laceweight yarn. I'm obviously going even bigger!
0
likes