This is the last entry in the Dangerous series. I actually never intended to blog about this – it was going to be only six entries, 12 "thoughts." But you know my craziness about numbers, and in retrospect seven and thirteen are such better numbers, that I barely had a choice :).
Plus you know how a new book can be – it shows up, and all of a sudden old plans are thwarted, whether you like it or not.
Next time I'll do a really brief wrap up and (if I have enough time between now and then to start something new) share with you the very first project from this series to have been cast on!
13. Knitting Socks with Handpainted Yarn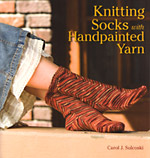 I've been looking forward to receiving Knitting Socks with Handpainted Yarn
for several months now – pre-ordered it and everything! Though I generally use solid or semi-solid yarns for knitting socks, I have used highly variegated yarns once or twice, too, and wanted to learn more about their production and properties.
I also happen to have a very special variegated yarn in my stash which has been without a companion pattern all this time! That shouldn't be allowed ;). I've really wanted to knit it up lately, and my hope was to choose something from the new book to do the colorway justice. (Just a note: the Grumperina colorway is carried exclusively at Birds-n-Yarn!)
So. The book. The introductory chapter is fantastic, filled with explanations of the various hand-dyeing processes and gorgeous photographs of the resulting colorways. There's a discussion of self-patterning versus self-striping yarns, as well as sections about color value and saturation, and how these elements of color theory can impact our pattern choices.
A book titled "Knitting Socks with Handpainted Yarn" has to have a chapter about pooling, flashing, splotching, and other "colorful community behaviors" (neighboring segments of yarn get together and either behave or misbehave, get it? haha!), and this book has a great one! Why it happens and what to do about it, explained!
Last, the intro chapter has guidelines for dividing our sock yarn stashes into nearly solid, muted multi, and wild multi categories. This is important because each of the book's patterns has a color recommendation, listing whether it would be appropriate for the nearly solid, muted multi, and wild multi category (or some combination of the three).
To me, the patterns are the most important part of the book. I would roughly divide them into two types. Click on any image to view larger.
The first type are patterns which were specifically developed for the "wild multi" category of yarns. Here the authors carefully thought of ways to alter the circumference of the typical sock, such that pooling, flashing, etc., can be avoided. They came up with all kinds of creative solutions: alternating several different yarns, knitting the socks in horizontal rounds and vertical rows (remember the Sidewinders?), extra-long rounds in Savannahchik Jody's Chevvy Socks, patterns where the number of stitches changes round to round, and so on.
The second type are patterns which are not necessarily novel in their construction, but show us typical stitch repeats as knit up in variegated yarns. The benefit of this cannot be discounted – I think many handpainted yarns have the potential to look fantastic when knit up in traditionally-constructed patterns. Not the same as the patterns worked in solidly-colored yarns, but beautiful in their own unique way. But we have to see it first to make sure that's the case! And this book is great for that – cables, and eyelets, and slipped stitches, and colorwork, all worked in handpainted yarns to show us how the socks will look. In many cases, gorgeous!
0
likes