10. Loop Shawl in Malabrigo merino worsted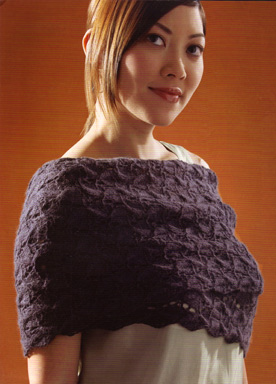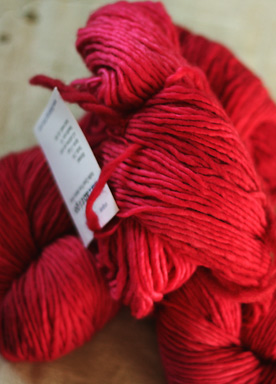 I completely passed over the Loop Shawl from Sensual Knits
when I first leafed through the book. I think the pattern suffers from Canal du Midi syndrome – so much potential, but the beauty is obscured in the book's photograph.
For starters, it's incredibly difficult to capture texture and depth when the photographed object is black. That's because in order to do so, you need to photograph the "hills" of the work and the shadows they cast over the "valleys." And shadows cannot be seen on a black background, just like you can't see shadows when it's dark out. Before you poo-poo black yarns all together, I'll mention that they are great for showcasing lace :).
Second, the chosen yarn (Louisa Harding Kimono Angora Pure) is composed of 70% angora, 25% wool, and 5% nylon. This leads to a beautiful, luscious, silky, drapey fabric, but not one which is optimal for "popping" cables. This same pattern knit out of bouncy merino would be a whole different story.
Which brings me to Carrie and her gorgeous Loop Shawl in a red wool. The difference is incredible, don't you think?!? Certainly puts this pattern in a whole new perspective.
I also really like the way that Carrie didn't close her shawl. Following her lead, I plan to knit mine as a scarf all together: just work fewer stitches for a longer period of time. Consciously or subconsciously influenced by Carrie's red, the yarn I've chosen for my Loop Shawl is Malabrigo Merino worsted in Geranio (44). This color is ridiculous. That's all I have to say about that :).
11. Lily of the Valley Opera Gloves in Louet merino fingering weight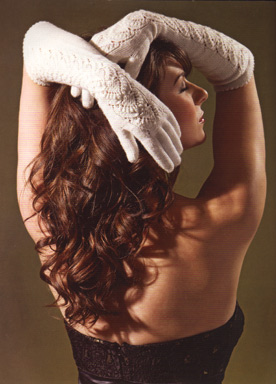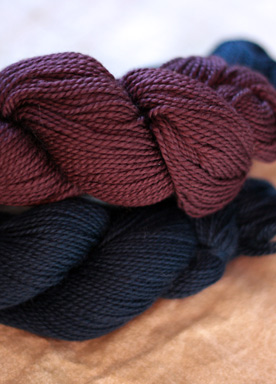 While taking a fresh look at the Loop Shawl, I also noted the Lily of the Valley Opera Gloves in the same book
. They are really gorgeous, and something I can see myself wearing, perhaps in a slightly shortened format. I haven't knit many mittens, and I've never knit gloves all together, so I thought these would be a great project to beef up my experience in that general category.
When I was at the yarn shop, I picked up some Louet Gems, 100% fingering weight merino in indigo (16). Gorgeous color, like a rich ink stain (I've used this color in sport weight twice before!). Then I got home, and remembered that I had more fingering weight Louet in my stash! Lovely Shaina had given me a boatload in eggplant (42), remember? I used the charcoal from that same swap to make my dad's Shooting Stockings.
I love both colors, and both would work well with my coats. They are dark, so they won't instantly stain, but not generic black. Which to choose, which to choose…
12. A cotton hat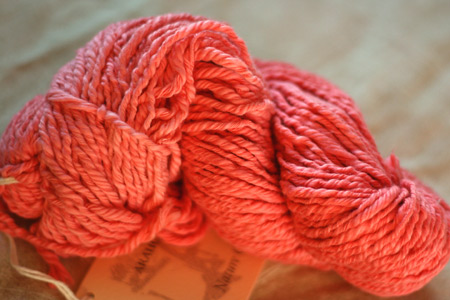 The lure of soft, hand-dyed, thick-n-thinly spun cotton could not be ignored any longer. I've always been drawn to it in yarn shops – ooh, so pretty! When I saw some closeout Araucania Nature Cotton (35) at WEBS, that was it!
I only bought one skein, just to try it out. I'm thinking a simple hat for myself, preferably in stockinette (at least for the most part) so that the gorgeous yarn is not hidden. Perhaps a Thorpe? The gauge is pretty close!
0
likes