You know the time and space between completing a number of lingering projects and casting-on several new ones? It doesn't happen very often, at least to me. Usually I start new projects as old ones are done, a casual and informal replacement; a staggered process. A pair of socks off to grandma = a new pair on the needles; a finished hat = next, let's do a scarf; something more substantial like a shawl completed = follow that up with a baby blanket. That's the typical scenario.
It's very infrequent that I complete several things, all at once, and then am faced with a whole world of possibilities. I feel anticipation, excitement, a bit of anxiety! There's a lot of pressure – with nothing on the needles, what am I going to knit tomorrow on the train? Must be small and portable and on par with 8 a.m.-brain. What am I going to knit this weekend? Can be more extensive, and require reference books, since I'm here at home – perhaps crochet? And what about that 10 hour flight a few weeks from now? It can be big, but shouldn't require anything special, since I'll only have what I bring in my luggage at my disposal. But better get started on that now, since the last thing I want is to be stranded with the wrong yarn-pattern-needle combo, thousands of miles away from home.
And just like that, this special moment becomes so very, very complicated! Several new patterns, a number of new yarns, and gauges to work out with a bunch of different needles… my head is spinning! Busta said it best:
This is serious
We could make you delirious
You should have a healthy fear of us
'Cause too much of us is dangerous
I can tell you from experience, that these situations have never ended well for me. I'm too hasty, there's too much pressure to start something (anything!) right now. I don't fully process my decisions, and things just go bad.
And so, I turn to you. For better or worse, I don't queue things in Ravelry. My brain just doesn't work that way. But I have a mental queue, m-hmm, and want to share with you some of the projects that have been bouncing around in there. Bonus: this will allow me to show you some of the great yarns I've recently purchased!
It will certainly take me a few days to tell you about the dozen or so projects I've placed in the category of "immediate cast-on". No scheduling promises, but I hope to reveal them in rather quick succession. (I know that if I take too long, I'll just start casting on with wild abandon and things will go bad.)
Your mission, should you choose to accept it, is to stop me if you think I'm making bad choices. Or share your wisdom if it's a project you've knit in the past, or a yarn you've used. Simple enough! I thank you in advance ;).
– – – – – – – – – – – – – – –
1. Crown Prince Square Shawl, Lorna's Laces Helen's Lace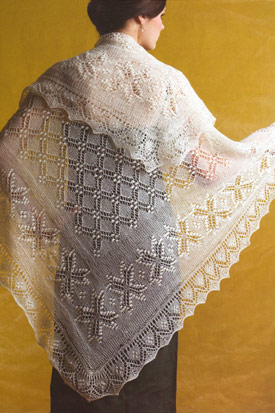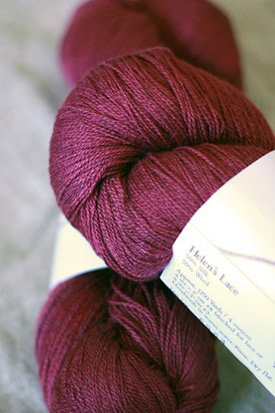 The first project I'm going to showcase is entirely predictable. Just skip ahead if you feel your eyes starting to roll ;).
I loved Knitted Lace of Estonia
from the moment I opened it, and my review did not conceal my excitement. As you can imagine, it's only a matter of time before I actually put my needles where my review is and knit something from this amazing book.
My dear grandma, purveyor of all manner of fine handknit socks, is turning 80 this June. She saw KLE when she visited me last month (Grandma! All the way in Boston! It happened!), and loved pretty much everything in it. She's a woman with fine taste. She loves her periwinkle, but since she already has one shawl in that colorway, I turned to another favorite color of hers – burgundy.
In consultation with my mom, we agreed that Lorna's Laces Helen Lace in cranberry would be the prefect color choice. Those who caught my Eye Candy Saturday a few days ago noticed that I had something big in mind. Indeed, the shawl gracing the cover of the book, the Crown Prince Square Shawl, measuring in at a whopping 52″ square, is the one. Before I proceed, I would only like to point out that on page 118, we are asked to make two lace edgings, beginning each one by casting on 409 stitches. Now, who's with me?!?
2. St. Nick Christmas Stocking, Raumagarn 3-ply wool yarn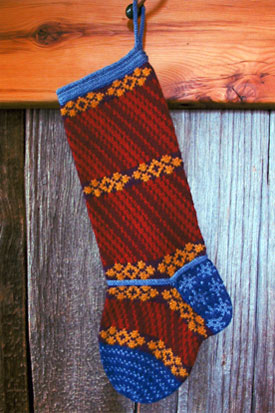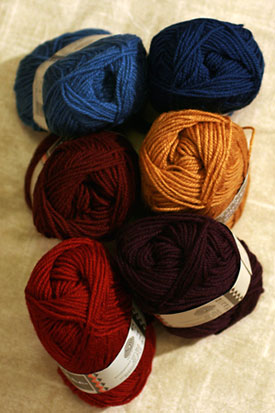 In order for me to maintain some steam for the projects I plan to show you in the coming days, I have to wrap up this already-too-lengthy post. So, let's look at something simple and straightforward – a kit!
Some of you may remember the Judy's Colors Red Velvet "Christmas" stocking I knit for my husband last February. It was my intent all along to knit a matching stocking for myself in the St. Nick flavor. I had it all picked out eons ago! The kit was ordered in time to go with us on our honeymoon, almost a year ago! (Wouldn't you know it, in sunny Belize knitting with cotton proved much more effective than knitting with this Raumagarn, the wooliest of all wools, haha.)
And it's been gracing my stash ever since. As I've mentioned before, I don't celebrate Christmas, but seeing all the stockings this time of year sure is a great reminder of my "promise" and "commitment", mhmm.
– – – – – – – – – – – – – – –
There you have it! The first two projects occupying my mind – pretty straightforward, don't you think? Others to come are much dicier, for sure ;).
0
likes