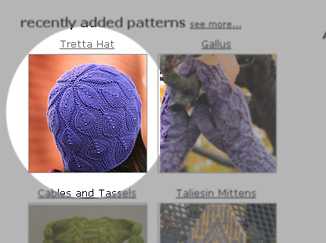 Look at that! Somehow I figured it out!
Because I'm not a frequent Raveler, it always takes me forever to get these things right – do I first add the pattern, then upload it to the store? Or first the upload, then the pattern? What do I list for "published in"? And so on… Apologies for the delay!
Now you, too, can pretend to be my forgetful little cousin and have a Tretta hat of your own!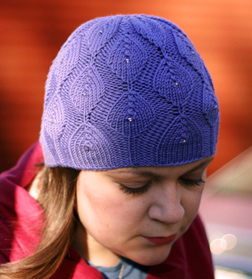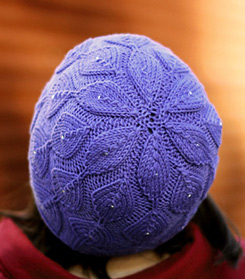 About the hat The Tretta hat is part of a tradition of close-fitting, beaded hats that I've been designing and knitting for my little cousin Sarit. The original Odessa and Black Sea hats having been lost, Tretta is the third in this series. The name is a loose derivative of the word "third" in Russian.
About the pattern Tretta is a very quick and satisfying project, suited for intermediate-level knitters. Techniques used: knitting in the round, increases and decreases, beaded knitting, following a chart.
Tretta is knit entirely in the round and requires only 130 yards of DK-weight yarn. A perfect place to use that luxurious skein of cashmere or alpaca! The stitch pattern is basically a beefed-up and embellished ribbing, so the built-in stretchiness allows the hat to cover a range of head sizes – from 20″ (large child) to 23″ (large adult).
Unlike my other beaded designs, only 30 beads are needed if the pattern is knit as written. This time around, there's very little tugging and pushing! Although the beads are a wonderful detail, it's important to point out that they are a choking hazard; please use your judgment.
YARN
Sublime Extra Fine Merino Wool DK [100% extra fine merino wool; 127 yd (116 m)/50 g]: 1 ball Myrtle #66.
NEEDLES
US 6 (4 mm) 16″ (40 cm) circular needle; US 6 (4 mm) double-pointed needles, or size needed to obtain correct gauge.
NOTIONS
Size 6 clear glass beads with metallic center: approximately 30; tapestry needle, stitch marker.
GAUGE
After blocking, 20.5 sts and 33.5 rnds over 4″ (10 cm) square in pattern knit circularly.
About the file
Three-page pdf file, 3.9 MB in size. Includes knitting instructions in 12-point font, and three full-color photographs. This file can be opened using Adobe Reader.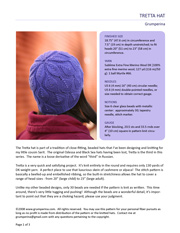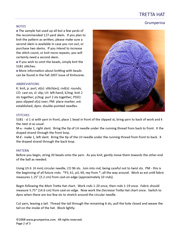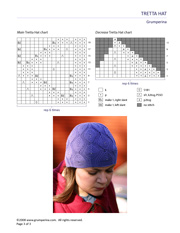 I always provide support for my patterns, but since you're paying for this one, I will not settle for anything less than your full happiness and satisfaction. I will let you know if there are any mistakes or updates, and you can always e-mail me for help.
Click on the button below to buy a copy of this pattern through Raverly, payment via PayPal. (I believe you do not need a Ravelry account to complete this purchase – let me know if you have any trouble!)
Tretta Hat knitting pattern, $4.00 USD

0
likes