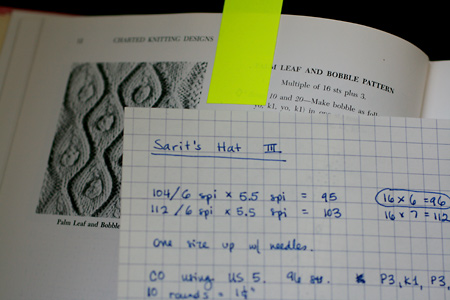 I know! Can you believe it? My little cousin Sarit has once again lost her handknitted hat. She was the inspiration for the design and the recipient of the original Odessa. When she lost her Odessa, I designed and knit up a Black Sea hat, just for her. And now I've been asked to knit a third. Good thing she's a cutie-patootie! I would never say "no" (or even "maybe"!) to my flower girl!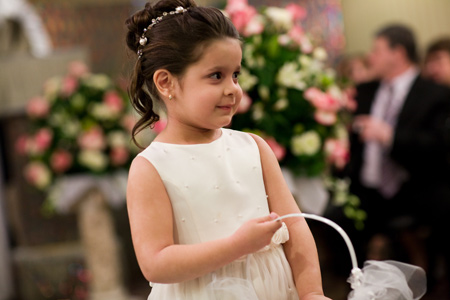 With Sarit's "stellar" hat retention rate, I'll be designing a beaded hat with some purple element every winter! That's the requirement – purple, but not a light purple, and beaded. Obviously it doesn't have to be my own design, and it doesn't have to be a new design (I could whip up another Odessa), but why not?!? I've done it twice before, no reason to skimp now.
As soon as the request was placed, I had an idea of what I wanted to do. I wanted to make a hat which looks like the Shibori Scarf from The Elegant Knitter
(you can see a photo of the scarf and read a mini-review of the book here). But I didn't want to felt anything! I just wanted to knit something with the representation of meandering bubbles using the typical techniques – knits and purls, increases and decreases.
I found a stitch motif in Barbara Walker Numero Tres
called Palm Leaf and Bobble Pattern which served as my starting point. Later, I came across a picture of Cirilia Rose's Matryoshka Stole and was further reassured that placing beads in the middle of raised motifs would probably look okay, even if Sarit's new hat won't be quite as three-dimensional as Cirilia's stole (it has to stretch around the noggin, after all).
I went to Windsor Button with every intention of buying two skeins of Debbie Bliss Baby Cahsmerino in some variation of purple. That's another thing I knew right away – that I wanted to use Baby Cash. I've had really great luck with it!
However, another yarn ended up coming home with me that night.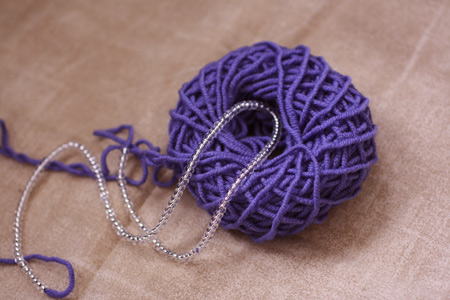 Sublime yarns are completely new to me, though I've been noticing their kids' patterns for a while – the Retro Flying Helmet and Bonnet kill me with cuteness. Anyway, their particular purple offering #0066 seemed much more appropriate for Sarit than whatever Ms. Bliss had, so I changed my mind! As quickly as that!
You can see that I'm once again going with the pre-stringing method of beaded knitting, and just like with the DK-weight yarn I used for the Odessa, size 6 seed beads are doing the trick (for more info on beaded knitting, you can read this post or my article in the Fall 2007 issue of knitscene). The beads are clear glass with a metallic finish on the inside of the hole, purchased at either the Boston or the Cambridge Beadworks.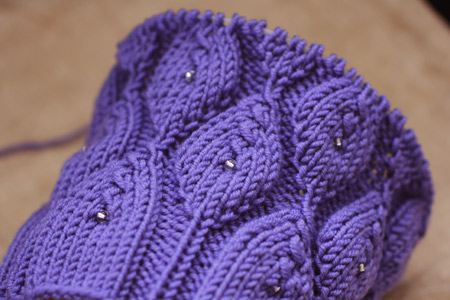 While I like where this design is going so far, I'm beyond anxious to knit up the requisite 5.5-6.5″ of flat knitting and start the decreases. I think this type of stitch pattern lends itself perfectly to forming the crown of a hat. I can hardly wait until I get there!
0
likes