I really owe this project, this yarn, and this pattern all the pomp and circumstance achievable in a blog post. Love all around!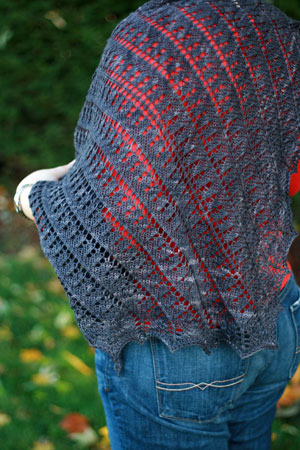 Pattern: Toe the Line shawl by Chrissy Gardiner.
Yarn: Spirit Trail Fiberworks Paivatar in "Special" (MCN 08-03-01), 80% superwash merino, 10% cashmere, 10% nylon; 115 grams and 250 yards per skein. I used two skeins, basically in their entirety.
Needles: US 6 Inox Express circs, 24″ long. As I mentioned earlier, this yarn seems much too thick for the recommended US 1-3 needles.
Size: 62″ across the top, and 29″ deep. As you might remember, I attempted to match the size of the Leaf Lace Shawl. I came very close!
This project was arranged with quite a bit of care and foresight, and I think it really paid off!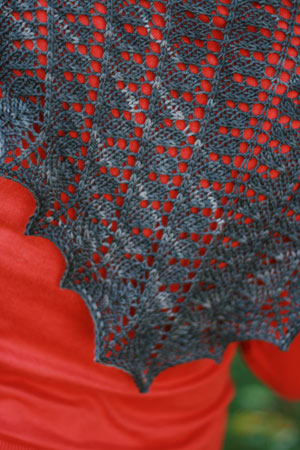 The yarn is a thing of beauty. The texture and quality is fantastic – without any hesitation, I can imagine it as a sweater or a hat or a gorgeous baby blanket. The color is phenomenal – variegated just enough to add some interest, but not interfere with the lace pattern. It's deep and grown-up without being bland. Purple in some light, and charcoal in another. Perfect.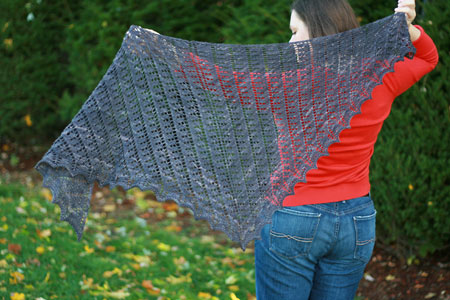 The pattern is perfectly written and easy to execute. Since the shawl is worked from the nape of the neck to the scalloped edge, the size is easy to customize, both to the wearer's preference and to the amount of yarn available! The end result is geometric, rectilinear, but delicate at the same time, something I really wanted to achieve here.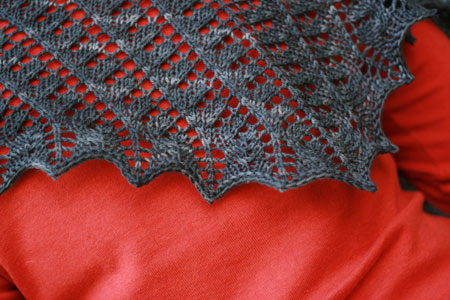 I will continue to insist that the home-brew edging was a bit of a half-assed job. But I concede that it's not terrible :). If I took the time to knit a swatch, I could have done an even better job of merging the main pattern with the leaf-like scallops – just shifting the yarn overs from the middle of the leaf-like shape to its edge. Something to remember if I knit this pattern again.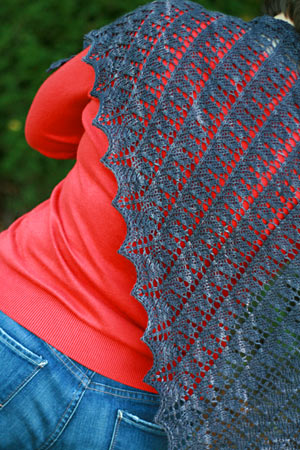 All in all, I'm obviously very happy with the way this shawl turned out, and so is my mom! However, I find it ironic that after all my insistence on this geometrically-influenced pattern being the perfect choice for her, my mom expressed genuine interest in the curvy, flower-inspired motifs of Knitted Lace of Estonia
when I showed her the book. Tells you how well (or poorly) I can predict her favorites! And adds some new things to my queue, of course!
0
likes