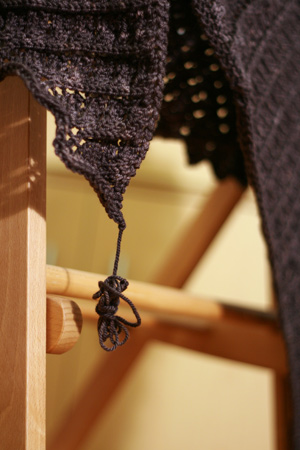 I'm afraid of tomorrow.
You see, today was pretty great – I wore a new coat and received a compliment as soon as I arrived at work, the science went smoothly in big ways and little ones, and now I've finished my mom's shawl with maybe a yard or two of yarn left. The little tangle of string hanging off of the corner? That'd be it! The only thing remaining!
Now things can only go in one direction – back to the average, which means something's gotta go bad. Nail biting and worrying can begin… now ;).
Let me switch the dramatic channel back to pragmatism, which is the expected standard around here. Specifically, some of you may be noticing that the border of this Toe the Line shawl doesn't look like the original. Ding-ding-ding! You are correct!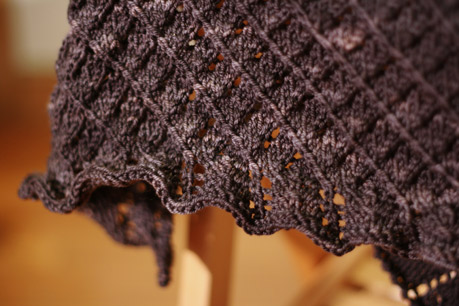 As written, the border is added perpendicularly to the edge of the shawl. A few stitches (less than 20) are worked back-and-forth in rows, and the growing fabric is simultaneously attached to the live stitches of the main triangle. This is not a new technique for me – Misty Morning and Mountainash had some of their borders attached in this fashion, and I knit the Toe the Line sample, let's not forget ;).
My biggest issue with this method is the continuous turning of the work, back and forth. Nope, my knitting backwards is not faster than turning (yet!). Also, if I change my mind about the border, frogging can be a bit of a hassle (even with a lifeline) because the live stitches are spread out between two separate planes of work, if you will. Third, in this particular pattern, the chosen border is a little too pointy for my mom's tastes, so I didn't feel a particular attachment to it from the beginning. Fourth, I probably would have run out of yarn anyway, since what I ended up knitting was much more petite and even then I barely made it!
I used a seldom-cited book by Evelyn Clark called Knitting Lace Triangles to guide me. Off the top of my head, you can buy it at Paradise Fibers, and this shop on eBay carries it for cheaper than what I paid at my LYS! In it, Evelyn details the simple and intuitive design of many of her triangular shawls, including the Leaf Lace Shawl and the Shetland Triangle.
It was the signature scalloped border of Ms. Clark's shawls that interested me this time, of course. Toe the Line has a pattern repeat which is different in size and style from the Clark repeats, but I fudged a lot and knit something resembling a border anyway. It may be half-assed. (It is definitely half-assed. It looks like Evelyn's signature leaves got hit with a beetle infestation.) Maybe that's my luck running out, heh? But I think the shawl will be okay anyway ;).
0
likes