At first I tried to model my dad's knee high socks with a skirt, but I came out looking like some kind of German frau.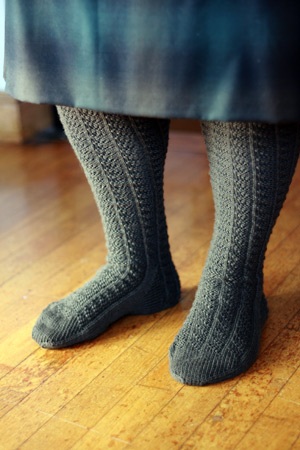 So, I got a little more comfortable in my surrounds, channeled Knitting Lingerie Style
, and the result was much better.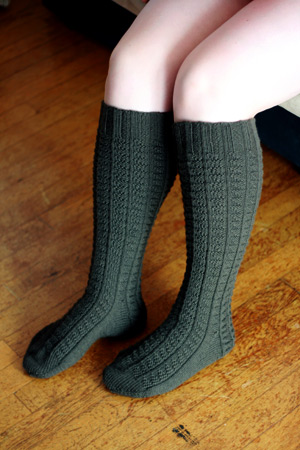 Pattern: Gentleman's Shooting Stockings with Fluted Pattern from Nancy Bush's Knitting Vintage Socks
.
Yarn: Louet sportweight Gems merino in charcoal (#49), a generous gift from Shaina. Two skeins of this 100% merino (225 yards/skein) were just enough for a pair of knee high socks: 2.8 grams left over from the first skein, and 3.7 from the second.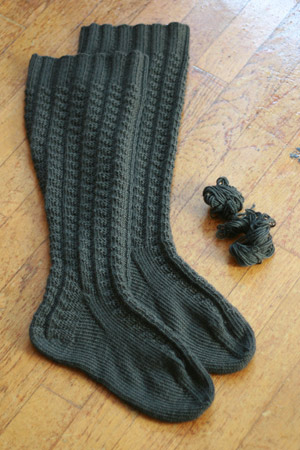 Needles: Susan Bates Silvalume dpns
, US 2 (2.75 mm). I have two sets of these (8 needles total), so I'm able to knit in the round using 5 needles. Perfect in length and size for this project.
Size and gauge: Unworn (so, unstretched) the socks measure 18″ from the top of cuff to the sole and 12.75″ around the widest part. The fabric stretches to cover my 16″ calves without any strain. My gauge in circularly-knit stockinette was approximately 6.5 stitches and 9 rows per inch.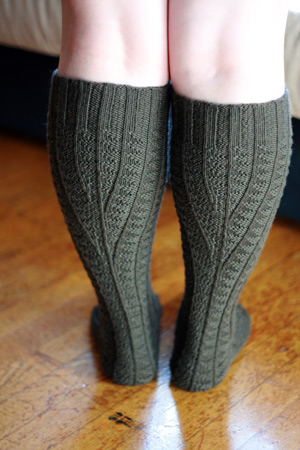 Different gauge, different needles, different desired size, but I'm so glad I didn't (and didn't have to!) modify the leg portion of the pattern that much: it's totally gorgeous! Unworn, the calf decreases looked weird and asymmetrical, but once the stockings are on (as I now see), the movement of the stitches seems natural. The stitch pattern down the heel flap is a nice touch, and I'm glad I was able to keep it.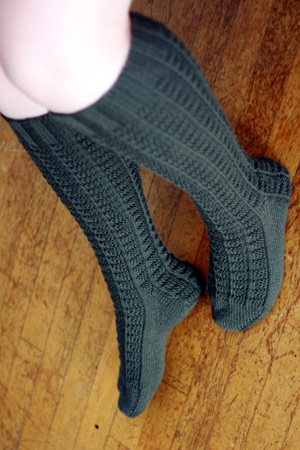 Remember how I had to break up a pattern repeat when I got down to the heel flap? I hope you can see that working purl stitches on the edges of the heel flap and knit stitches on the edges of the instep was probably the most unobtrusive solution.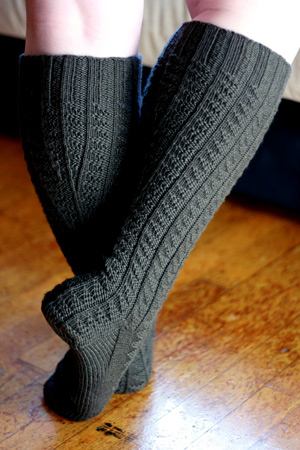 The stitch pattern, with its triangular areas of knits and purls, is easy to memorize… and mess up! It adds dimensionality and a ribbing quality to the fabric, which I think my dad will enjoy very much. I think these knee high socks will keep his legs nice and toasty.
0
likes