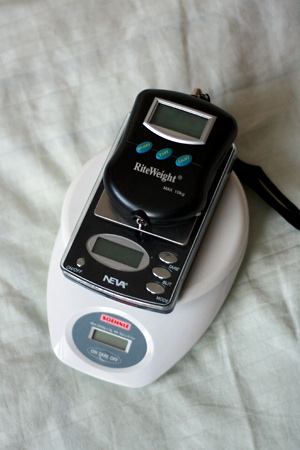 The arsenal of weighing implements, of course! Over the past week or two I've received a number of questions about how exactly I weigh my yarns. I'm guessing you were prompted by my close call with the Louet – only 2.8 grams left over! But how did I know that exact number?
By the way, those knee highs are done, and I had only a few grams of yarn left over on the second one, too. Left over is the key here. I didn't run out! Unfortunately, I've been entertaining guests for a number of days and haven't had the chance to block them yet. They'll be totally worth the wait, though, both for you and for my dad – I'm so happy with the way they came out!
Back to where we were – my balances. I'm certain I've mentioned them in passing before, even let them take center stage at times, but allow me to catalog and describe what I use here and now, once and for all, to reference for all eternity (or until I buy something new and spiffier).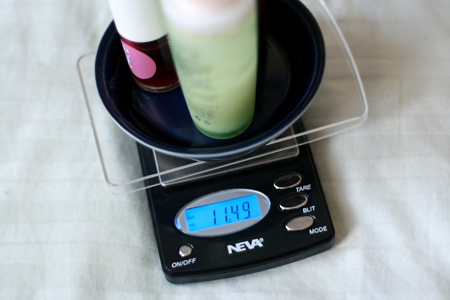 Let's look at the balances from the most precise to the coarsest. My Neva brand balance was purchased from DigitalSnail on eBay about two years ago. It has 0.1 gram accuracy and a 500 gram maximum. I've never tested the calibration of this scale (or my other two scales, actually), but I have reference weights at work so one of these days I will. Regardless, they seem to be pretty good, maybe even better than good – 50 gram skeins weigh in at 45-55 grams, as expected. For the curious, the "100" gram Louet skeins weighed in at 104.8 and 104.9 grams each (Louet generally seems to err on the generous side, in my experience).
I'm always concerned about using the scale with the English system – stupid non-decimal measurements! So here I've weighed something which is 11.49 ounces (some cosmetics in a ceramic dish – you need a lot of yarn to get up to 11 ounces!) and the display is very clear.
DigitalSnail doesn't seem to carry the precise model of my scale anymore, but I'm guessing any "Digital Pocket Scale" from their inventory with the same specs will perform similarly. This seems to be the current model, but I expect stylistic and inventory updates every now and again, so the link probably won't work indefinitely.
Alternatively, there are other 500 x 0.1 gram scales out there which I'm sure are fine for our basic fiber purposes, though I'm not in the position to comment on them.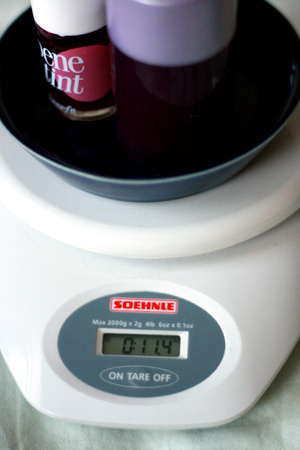 This white Soehnle brand scale goes up to 2000 grams with 2 gram accuracy, so I often use it for weighing small packages when calculating shipping costs online. As with the Neva scale, the precise model (called "Myra," my receipt states) appears to be discontinued – I purchased it about three years ago on Amazon
, so it's not entirely surprising. There are other Soehnle
models on Amazon (many with free ground shipping!), and I personally would not hesitate to buy another Soehnle, if I needed a replacement. It's been very reliable. Plus, as you can see, it does an excellent job keeping track of sixteenths. Very important for the English-system challenged :).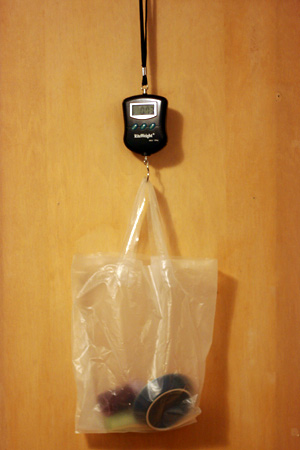 My last balance is my oldest – I got it around the time I started knitting (summer of 2004) for the sole purpose of weighing packages. Naturally, it's been relegated to fiber purposes since then. It's actually a fishing scale! Sometimes called a hanging scale or a luggage scale, but I prefer fishing :). I like that even though it's so tiny, it can weigh something very large – up to 10 kilograms with 10 gram accuracy.
To use, I usually place the item in question into a plastic bag, and then hang the bag on the scale hook, et voilà! It has a tare feature in case my plastic bag is thick or I'm using a tote or something.
I got this one on eBay, too, but it's been eons, truly, so I can't dig up the exact merchant anymore. Sorry! Something like this looks similar, thoughI can't vouch for either the seller or the item.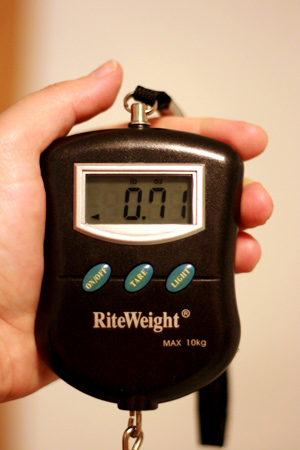 The one thing that bugs me about the fishing scale is that the English units are displayed on a decimal scale. Remember our 11.4 ounces? On this scale those items clock in at 0.71 pounds (0.71 x 16 = 11.4). Annoying and ridiculous. Especially for a scale which I most often use for weighing shipments – our shipping couriers, as you know, charge us by pounds and ounces, so weighing in metric units would require a calculator anyway. Ug!
1
like