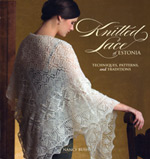 Ladies and gentlemen, I have the book.
Ever since my glowing review of Victorian Lace Today, and the three VLT scarves that followed (plus one in progress!), I have been looking forward to the next "it" book for lace knitting. And here it is: Nancy Bush's latest masterpiece, Knitted Lace of Estonia: Techniques, Patterns, and Traditions
.

Don't get me wrong: I love Victorian Lace Today to pieces, evidenced by the scarf after scarf I keep cranking out using its patterns. And I'm far from done! There are so many more gorgeous patterns in it that I'm dying to knit up.
It's just that VLT set the bar so high. I have been itchy and anxious – can something, anything, rival this beauty? This extensive research, this breadth of patterns, this gorgeous photography? And let's face it – it's been two years since VLT, time to see a new face on that bookshelf!
Once I heard that Nancy Bush would be coming out with a book devoted to Estonian lace, I thought, here's a contender for a new favorite! No hesitation, pre-ordered it at Amazon
, plus hunted down every bookstore and LYS within 20 miles. And… I may have overdone it, because now I have two! Keep reading to see how my overzealous nature can benefit you!
I'm not going to declare Knitted Lace of Estonia "a new favorite" because it's actually quite different from VLT, complementing it rather than replacing it. Well, the level of historical and technical detail contained in both books is similar.
KLE starts out with an extensive history of Estonian knitting, specifically as it developed in the coastal area of Haapsalu. We learn that, "Estonians had no written instructions for their patterns – the techniques and designs were handed down from one generation to the next." Reverse engineering was common practice as women shared their knitted samplers. Shockingly (to me, at least!), knitters used lightweight wooden needles with rounded – not sharp – points. Oy! An accomplished knitter, we're told, could complete twenty to thirty shawls during the quiet winter months.
As far as historical techniques are concerned, we learn that the square shawl is the stereotypical shape in Estonian knitting. It is usually comprised of a center panel and an edging, knit separately, and then joined together with a length of yarn and a sewing needle. Actually, the edging is made out of two identical pieces. Don't worry – there's no quiz at the bottom of this post and a diagram on page 31 :). Triangular shawls and rectangular shawls or scarves also exist, though they became commonplace a bit later, around the 1930s.
A note: Even though square shawls are the most traditional, KLE contains patterns for 9 rectangular shawls/scaves, 3 triangular shawls, and 2 square ones. Makes me very happy (I'm still kind of done with triangular shawls, especially if knitting for myself). The patterns call for laceweight or fingering weight yarns, and I would rate all of them as suited for the intermediate or advanced knitters.
The chapter devoted to specific Estonian stitches pretty much blew my mind. It's by far my favorite! The nupps, the fancy decreases, the "take 5 stitches together then make 5 new stitches" (I am not making that up!) add amazing texture and dimensionality. It's what makes Estonian patterns so unique and gorgeous! For a process-knitting junkie like me, it's the sound of angels singing. Aaaaaahhhh! Let's not even talk about the delightfully-extensive charts spanning whole pages. Oh my!
All of those techniques are useful in deciphering the "Estonian Lace Stitch Dictionary" at the back of the book, which contains 25 center panel repeats and 13 edging variations. If you want to design your own shawl, you can mix and match those options using the guidelines laid out in the initial chapters.
Last, but not least, the book contains detailed information on blocking and finishing, including how to tug each stitch of the lace edge to open it up (should your OCD tendencies take over… as surely mine will). Look at the edge of the goldenrod scarf below to see what I'm talking about.
And now, please, help yourselves to the gorgeousness in the extended entry. You won't regret it ;). Click on any photo to view a larger version, and then let me know which one(s) is or are your favorite in the comments!
At random, I will select one person from the comments to receive a free copy of this book! (the one I duplicate ordered – D'oh!) One entry per person, please, and I will close the comments on Thursday evening, 10 p.m. EST. ETA: Comments have now been closed. Thank you for playing!

2
likes