I was pretty much set with the next thing to hit these pointy things here, my needles. I mentioned it here – my mom lost her Leaf Lace Shawl about a year ago, and as soon as I found out I promised to knit her a replacement. Since then, of course, an entire cold and dreary winter has come and gone. Right…
Not that I didn't try! While I got my act together, I gave her my Shetland Triangle, which I think she enjoys wearing very much. And I very seriously worked on the Trinity Stitch shawl for her, even finishing the main triangle, before deciding it wasn't the right thing after all (too heavy and not drapey enough) and frogging the whole project in one panicked instant.
The yarn is now on its fourth life: (1) Leaf Lace shawl, (2) Mac & Me scarf, (3) Trinity Stitch shawl, (4) frogged too many times, worn out, sad, limp, and on its way to retirement.
But the request for a replacement shawl does not disappear when the yarn slated to become it does. So when I saw the Spirit Trail Fiberworks Paivatar at this spring's New Hampshire Sheep & Wool festival, displayed right next to my turd-ilicious Atropos, I did not hesitate, I did not delay, I handed over my credit card and dreamed of my mom in her new gorgeous shawl.
Paivatar in "Special" (MCN 08-03-01), 80% superwash merino, 10% cashmere, 10% nylon; 115 grams and 250 yards per skein (I bought two).
The yarn is simply perfect. It is mysterious, gloomy, very similar in color to my mom's first shawl (per request), and a wonderful match for the pattern I had picked out months and months earlier – Chrissy Gardiner's Toe The Line shawl, which I had the pleasure of test knitting this winter using LL Helen's Lace. By the way, I maintain that this is brilliant pattern (as you know, I'm not one to hand out such endorsements unless I really, truly mean them).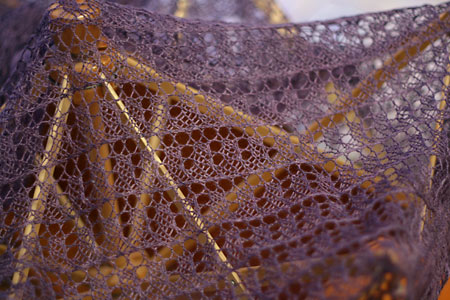 It would be fabulous, simply fabulous, don't you think?!? Grandma's latest pair of socks is basically done, the timing to knit a shawl for my mom is perfect, I have the yarn, I have the pattern, and there's nothing to hold me back now!
… And then my dad called, and with utmost earnestness asked me to knit him a pair of knee-high socks (with further specifications than that, naturally). His health issues are causing awful muscle cramps during the night, while he sleeps, and he thinks a pair of wooly tall socks would help him tremendously.
So much for the next thing…
0
likes