A while back I mentioned that even though I initially chose the 5″ long Bryspun dpns for knitting my dad's socks, I quickly changed my mind in favor of 6″ long INOX ones. You see, the socks start out with 84 stitches, and when that's combined with using sportweight yarn, keeping all those loops on the needles becomes a real hassle.
But the INOX weren't even the last ones! After knitting a few inches, I decided I wanted something even longer, and possibly a hair thinner: both the Bryspuns and the INOX are 3.00 mm, and the fabric they produced was a bit loosey-goosey.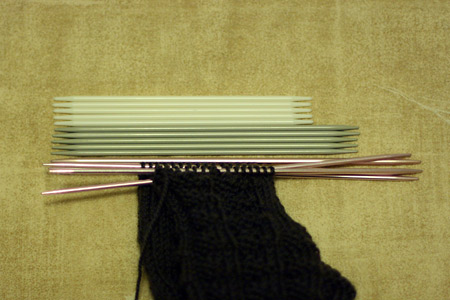 Ta-da! Susan Bates Silvalume dpns
, US 2. I have two sets of these (8 needles total), so I'm able to knit in the round using 5 needles. These puppies are proving to be absolutely perfect: 2.75 mm in width and 7″ in length.
Armed with the right needles, I finally moved past the ribbed cuff and into the meat of the sock pattern. Despite having everything "different" – different weight of yarn, different gauge, different height of finished sock – I was able to follow the book's pattern to a t for an obnoxiously long period of time. I worked the leg shaping chart exactly as written, decreasing the initial 84 stitches to 72, and then I immediately worked the chart again to decrease the stitch number to 60. Considering my dad's request that these socks to be on the looser side, I thought 60 stitches around the foot would be a great circumference, so I didn't budge after that.
I finally had to put on my thinking cap when I got to the heel. The number of pattern repeats was different, and so was the way they were spaced relative to the seam stitch. So, separating the heel and instep stitches led to some "border" stitches on either side – just broken up pattern repeats. I decided to make the instep borders plain stockinette – they'll blend in effortlessly into the sole. The 3 stitches on each side of the heel flap, however, I made in reverse stockinette.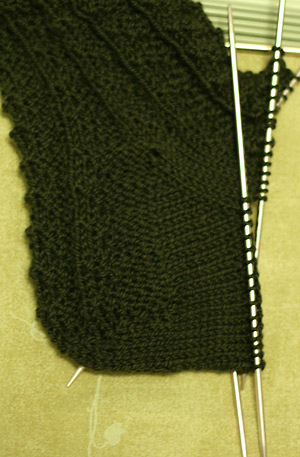 Like magic, once the gusset stitches are picked up, the demarcation of the purl-edged heel flap and the knit gussets disappears! If you can see it in that dark-colored (meaning, impossible to photograph) fabric!
0
likes