If I knew how the folks at Fleece Artist made their yarns glow, I would know the Secret of the Universe.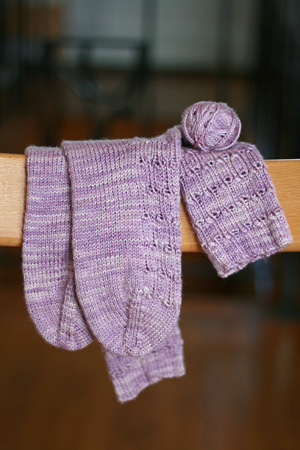 Pattern: Undulating Rib Socks by Ann Budd from Favorite Socks
. I knit the smaller size, but my yarn was a bit chunkier than the pattern's, so the end result was "grandma-sized."
Yarn: Magic! Just kidding ;). Fleece Artist Sea Wool in pixie, 70% merino and 30% Seacell, 350 meters (380 yards) per 115 grams. One skein was plenty for a pair of large women's socks, and I had 11.4 grams left over. Purchased as the Bordello sock kit from my favorite Fleece Artist dealer, Tidal Brook Yarns.
Needles and gauge: Using Susan Bates US 1 dpns
resulted in a gauge of 29 stitches and 42 rounds in circular stockinette stitch.
This is a marvelously textured pattern accomplished with only a few increases and decreases, nothing complicated! The springiness of the yarn only helps. Take a look at this photo – the depth of the stitches is really visible in the shadow.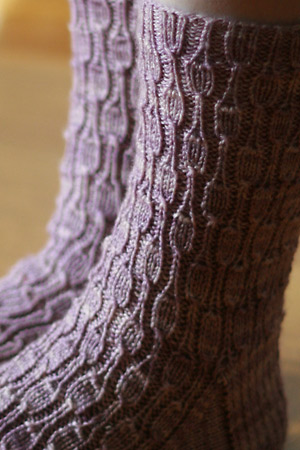 I made only a few noteworthy changes to the pattern as written. First, I centered the heel/instep a little differently, working each portion over 33 stitches (compared to the original 32 heel/34 instep). Doing this resulted in the instep being completely symmetrical, but because it was now worked over 5.5 pattern repeats, the stitch number vacillated between 35 stitches in rounds 1-8, and 33 stitches in rounds 9-16. Admittedly, a little confusing at times, but the symmetry made me happy.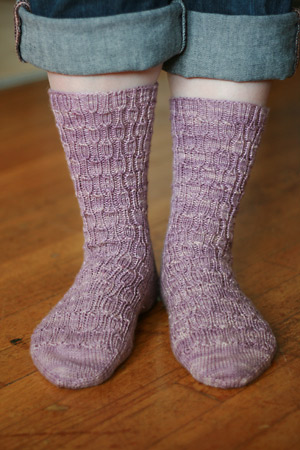 Second, I have to agree with the comments on Ravelry: there does seem to be a mistake in the pattern which hasn't made its way onto the Favorite Socks corrections page yet (this pattern starts on page 93). If you follow the directions for the ribbed cuff as written, and then would like the Undulating Rib stitch pattern to emerge smoothly (and as it appears in the book's photograph!), you have to start at round 9 of the chart, instead of round 1. Not a big deal. Though the result is undeniably pretty!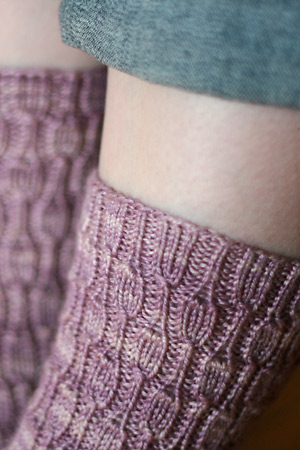 And pretty is all that grandma wants, really. Therefore, my job is done. [Wipes hands clean of this project, so she can work on something poop-colored.]
1
like