I would say my crafting area is loosely divided into two sections – the inspirational side and the "getting down to business" side.
1. Inspiration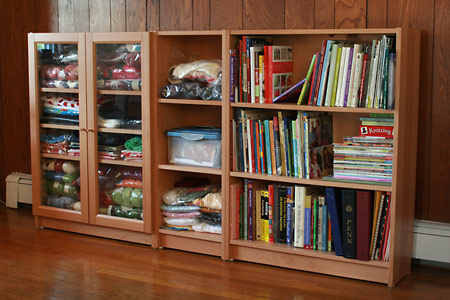 The inspirational side is nothing more than three Billy bookcases side by side (in front of some truly unfortunate wood paneling – le sigh!). The rightmost bookcase is filled with books and patterns, and is wide open for thumbing through and perusing. The left bookcase has yarns and fabrics, as well as glass doors to keep out the curious kitty.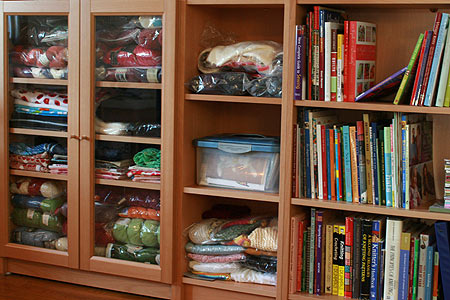 The middle, narrow bookcase has spillover from both sides. On the top shelf we have some yarns and works in progress, the middle shelf has sewing patterns (the bin with the blue lid), and the lowest shelf has finished projects. It will get a glass door shortly, because if I were to increase my stash, the new additions would go there and would need kitty claw protection.
Other than notions, and partial balls of yarn and scraps of fabric (in other words, project leftovers), what you see is the entirety of my yarn and fabric stash. More than you expected, or less?
1a. Literary Inspiration
I admit that I definitely have a weakness for books, pamphlets, knitting magazines, and individual patterns. If I like it, I buy it, and ask questions later. So, I was a pleasantly surprised to see that all my literary crafting materials fit into a single small Billy bookcase, with room to grow!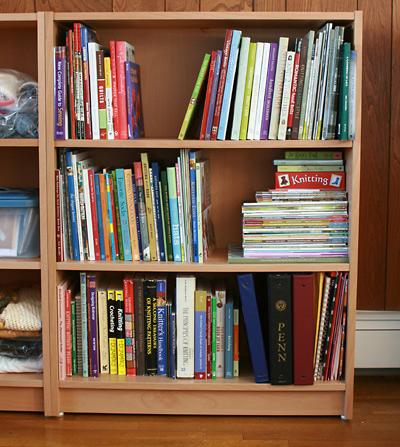 For the first time since I started collecting knitting books four years ago, I was able to organize everything thematically. This is something I've always wanted to do, but never had the dedicated space to actually implement. Some books, of course, are not easily categorized, so I placed them based on how I intend to use them.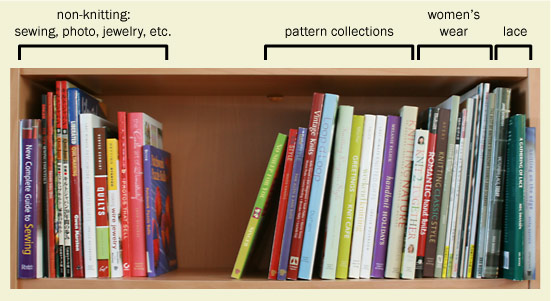 For example, Loop-d-Loop
could have potentially joined the other baby books, but in my mind it's much more of a pattern collection, with sweater patterns for the entire family and accessories all tossed together.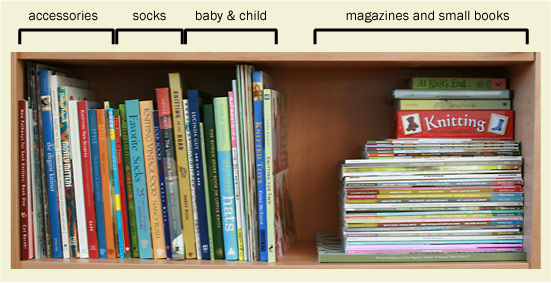 In contrast, if I were to knit a pattern from Knitting for Two
, it would be one of the super cute baby sweaters or hats. So, this book is together with the other baby books, instead of women's wear or pattern collections.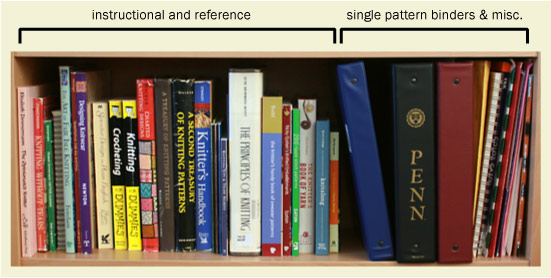 Books by Elizabeth Zimmermann
are in the instructional pile, as is my coveted copy of the Principles of Knitting
.
2. Getting down to business
And after perusing the books, pattern, yarns, and fabrics, it's time to get down to business and actually make something, don't you think?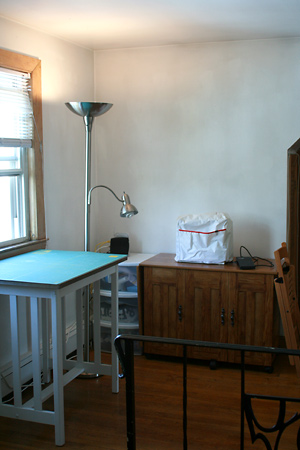 My crafting corner. It took a long time to get to a point where I'm able to dedicate a part of my living space specifically to crafting. One day it may be a room, but for now a corner is more than sufficient.
Just a few things visible here: in the foreground is a counter-height table (that we found on the street – am I allowed to admit that?). I think it was meant for the kitchen, but the height is perfect for standing and working at it, be it cutting, tracing, pinning, typing, whatever. The tabletop fits my Olfa 36″ x 24″ rotary mat perfectly!
As we look to the right, next we have a very simple floor lamp from Staples, with a 3-way light bulb and an Ott-Lite bulb
in the gooseneck arm. In the corner are three plastic bins
with notions and small odds and ends that wouldn't work very well in the bookcases.
And straight ahead is my sewing table, topped with my stimulus Bernina! It's the one I picked out back in March. I actually purchased it from Walmart.com shortly thereafter, while I was still living in my 386-square foot closet-masquerading-as-an-apartment. To say it was "in the way" is a serious understatement. But not any more! Check it out: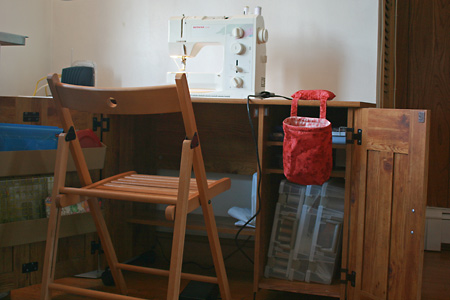 I won't go through all the little knick knacks contained within, but I will point out the items which have made a serious improvement in the areas of comfort, ergonomics, and/or organization.
First, notice the red pouch hanging off the table's edge. This is a catch-all for snipped threads and other small garbage; I picked it up at the New Hampshire Sheep & Wool Festival. The base is weighed down with what feels like beans or peas, and it has a swatch of slip-resistant shelf lining stitched to the bottom. The pouch itself has a wooden or plastic ring inserted at the opening so it keeps its shape and stays open. Brilliantly designed, and supremely functional.
I keep my bobbins and sewing machine notions on the shelves hiding behind the red pouch.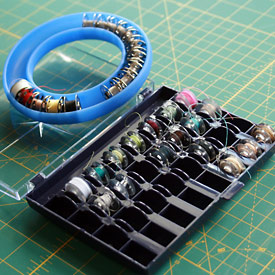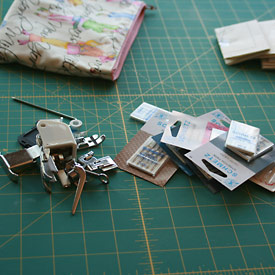 A simple box for the old Singer bobbins, and a fancy ring
for the new Bernina bobbins. Feet for the machines and Schmetz sewing needles, just the basics.
Next, below the pouch, you'll see three flat plastic bins on their sides.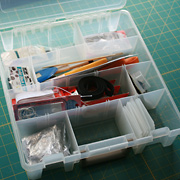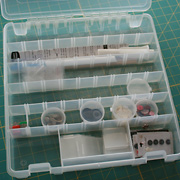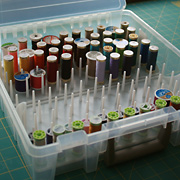 These three ArtBins, purchased at Joann.com
, are still works in progress – mostly empty as I figure out the best way to store and organize my sewing notions. My favorite is of course the large thread box
– so colorful and convenient!
In the plastic bins attached to the door of the table I keep the essentials – the things I take out each and every time I sew.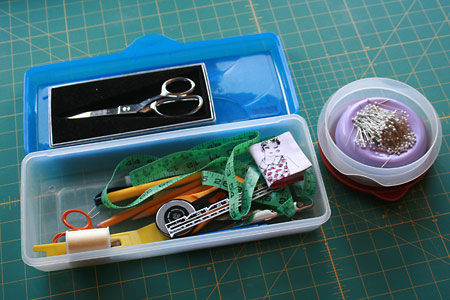 My tape measure, scissors, rotary cutter, needles, pencils, hemming gauge: they are all tucked inside the long and narrow bin. My Grabbit pin cushion
, inside a protective Tupperware-style container, is also nearby.
At this point I've exhausted all the "filler" topics, like complaining about moving, the lack of internet connectivity, my cold, the kitty, new furniture, and the parade of every plastic bin sold at Joann's. I guess I'm going to have to show you some progress next time, won't I?!?
0
likes