The funny thing about my dad's request is that the socks are going to be the same color as everything else on my needles and on my mind: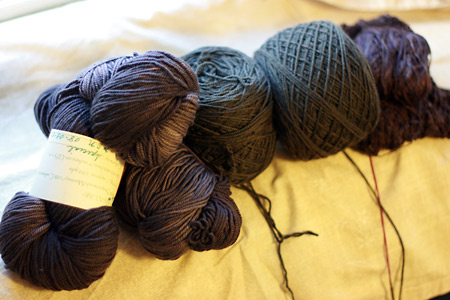 Is this some kind of bad joke? Like someone, or something, slithered by, and left a gigantic yarn dump. On the left is the Paivatar destined to become my mom's shawl, then the yarn for my dad's knee high socks, and last is the 21-25 scarf (still working on it). All basically the same color. Of POOP. And I'm wearing a dark gray shirt today. Is this what one would call "a color rut"?!?
Though I must tell you the yarn for my dad's socks sort of fell into my lap – I didn't choose the color.
A while back I got an e-mail with the following subject line: "Please take this Louet away from me!" In it Shaina wrote that she didn't like working with Louet "at all", and wanted to unload her 7 (!!) stashed skeins onto me. She said, "I just want it gone and you were the first person I could think of who really liked it."
Letmethinkaboutitforasecond YES and also kthnxbi. (It wasn't quite like that – I happily traded Shaina some LL in order to rescue the poor Louet :)).
Anyway, two of the skeins I received were sportweight Gems merino in charcoal (#49), 100 grams in each skein. Happily they adorned my stash until my dad's request and my instant realization that the amount and weight were perfect for his bed knee high socks!
Sidenote: the very first pair of socks I knit for my dad also used sportweight Gems merino! My dad states that while LL Shepherd Sock (which he's had the pleasure of experiencing since then) is softer, he prefers the thickness and loftiness of sportweight Gems for house and bed socks. Of course, no such statement of comparison could be obtained from my grandma – each newest sock pair is her "favorite," in turn.

Similar to the realization that this sportweight Gems merino would be perfect for the knee high socks (in terms of fiber composition, the yarn's thickness, quantity on hand, and color), I sort of immediately suspected the perfect place to find a suitable pattern: Nancy Bush's Knitting Vintage Socks
. I guess during the time of Weldon's Practical Needlework, taller socks were all the rage – the book has a number of patterns for knee highs, and many instances of socks tall enough to require calf shaping. I think with a little imagination and "lengthening/extending by example", the majority of the patterns in the book could easily work for knee high socks.
The pattern currently capturing my attention is Gentleman's Shooting Stockings with Fluted Pattern. Nancy writes that, "The original came up to the knee, perhaps even over it, and was meant to be worn with knickerbockers." I think my dad will ignore the latter portion of that statement (as well as the rifle in the pattern photo, if I'm seeing it correctly!), but I fully intend to reverse engineer Nancy's version in order to revert to the original knee height. My yarn and gauge are different from those specified in the pattern, and my dad's requirements for looser socks come into play, too. But I think that if I knit the pattern as written, for the most part I won't have to make wild modifications!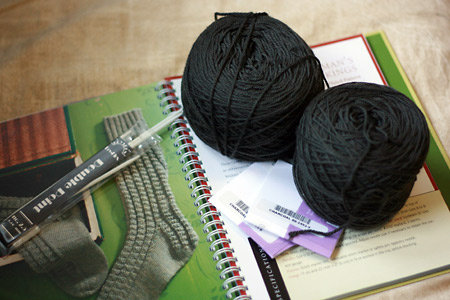 The pattern, the needles (3.0 mm), and the yarn. As always, each one subject to change at any time, without any notice ;). For instance, the 5″ Bryspun dpns have already been swapped for 6″ INOX ones – the extra 1″ in length seems to help in maintaining the large number of stitches on and not off the needles.
0
likes