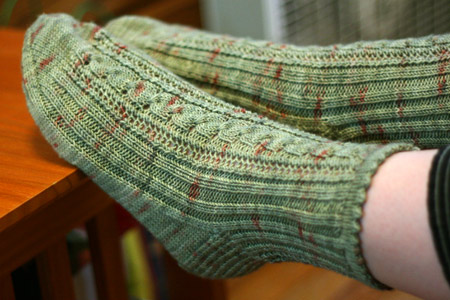 Reason for finishing the socks on the 17th but blogging about them 11 days later: moving. My 386-square foot apartment is crammed with boxes, empty and filled. My furniture is in in every corner and in all states of disassembly. I've been sleeping on my couch for about a week now. Stress levels are through the roof :(.
Reason for blogging about the socks now: moving. Everything must either go into a box, into the trash, into the donation pile, or bust! So, I must pack these up and send them off to grandma!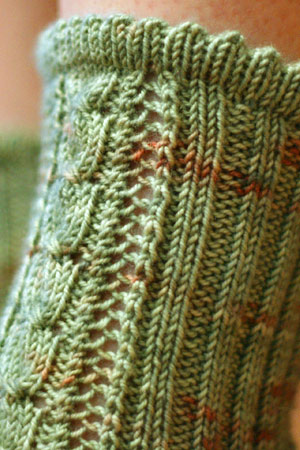 Pattern: Belle Époque from 2-at-a-time socks
by Melissa Morgan-Oakes. I knit the 72-stitch size (women's medium) and changed the 1×1 ribbing (the look of which I never like) to 2×2 ribbing.
Needles: Initially, there wasn't going to be anything "2-at-a-time" about my version of these socks: each one would be knit, in turn, using my trusty Susan Bates
US 1 dpns, set of 5. But wouldn't you know it, somehow the 2-at-a-time theme snuck in! Still not in the spirit of the book, which recommends Magic Loop, but I did have two socks going at once!
Yarn: Colinette JitterBug, 100% merino wool, moss colorway (#75). Such gorgeous yarn, such stinky put-up. The skimpy yardage resulted in two ankle-high socks and a whopping 3.3 grams of yarn left over. Bah.
Reason for not mailing the socks until the blog post went up: I wouldn't mail them until I measured the gauge. And I wouldn't measure the gauge until I was in the process of writing the post, because everything in my apartment is currently under the threat of disposal or being packed away – I'd never find that note ever again.
Gauge: 30 stitches and 42 rounds in circular stockinette stitch.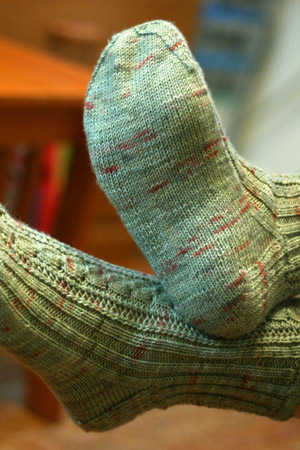 Reason for intermittent blogging until at least mid-August, if not later: do I even need to say it?
0
likes