Those of us who dabble in photography consider light both our best friend, and our worst enemy. Truth be told, I have been less than thrilled with my photographs of the 21-25 scarf, or more specifically, the gorgeous yarn from which it's knit: the colors have been coming out too uniform, too flat. The oomph and pop and interest that I see in real life have not materialized very well in two-dimensional images.
While knitting this weekend, I finally realized the issue: I have been blasting the project with too much light! I've been putting the fabric against a light-colored background, and illuminating it with as many lamps as possible. This, I think, creates too much contrast and everything "dark", no matter how many different tones comprise this "darkness", comes out looking uniformly black! The expression "harsh lighting" comes to mind.
But look at what I got when I placed the knitting against black fabric, and snapped a photo on a very overcast night, at dusk: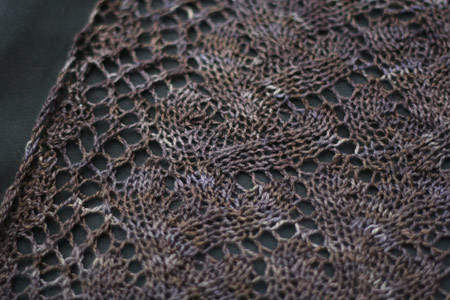 The image has been cropped slightly, but I didn't find it necessary to do any color corrections with a manual exposure of 1/500 sec, ISO 800.
The color nuances amaze me. Do you see them, too? Grays, purples, browns, blues? So moody and dark! That's talented dyeing, I tell you!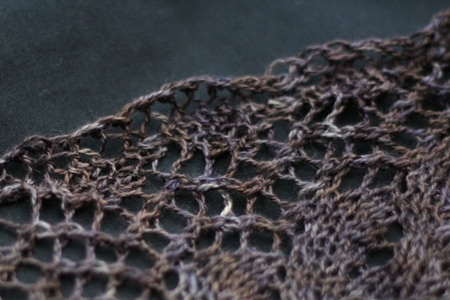 I specifically worked on getting a few shots of the border for you, because that's an area where I've made some changes to the pattern, and I wanted to share them with you.
As you remember, my mild case of tetraphobia combined with a limited supply of yarn resulted in my decision to make the scarf a bit more narrow than prescribed. Specifically, the pattern's 4 border repeats result in 58 stitches in the center of the scarf. In contrast, my 3 border repeats evolved into 44 center stitches, 14 fewer. (Yeah, that's a whole lot of evil fours to battle, I know! Fortunately, 44 stitches are not as immediately obvious as, say, 4 border repeats!)
Where was the nipping 'n tucking? Unfortunately, VLT
doesn't have a clear photo of this scarf for us to investigate, but with Linda M.'s generous permission to use hers, I can give you an idea.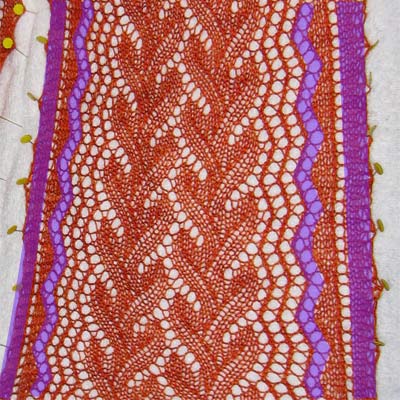 The eliminated stitches are highlighted in purple. I nixed a column of eyelets on each side, so that the main pattern is surrounded by 3 columns to the left and right instead of 4 (surprised??). I also ditched the garter stitch border, because I felt the fabric had enough stability from those wedge-shaped indentations (also garter stitch). And at the end, my version looks like this: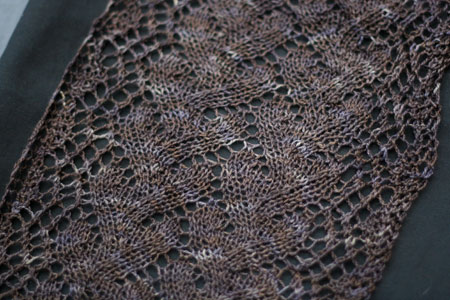 Pardon the wrinkles: this scarf is far from complete, and certainly not blocked. Not even pinned, just smoothed out with my hands!
0
likes