In my knitting life, I can say some things with near certainty.
One day I will knit another adult sweater.
One day I will knit another Oat Couture Prairie Blanket, because I didn't at all appreciate the genius of the pattern as a beginner knitter.
One day I will come across another pattern that's more error than instruction.
One day I will use another yarn with improperly set dye. (Want to see something truly, ridiculously scary? Don't tell me I didn't warn you! I photographed that on myself just so you know I didn't "invent" the color in Photoshop :))
One day I will attend my first sheep and wool festival. Scratch that – it's about to happen!
One day I will knit another scarf from Knitting New Scarves
(review/preview here). That day was actually going to be in February…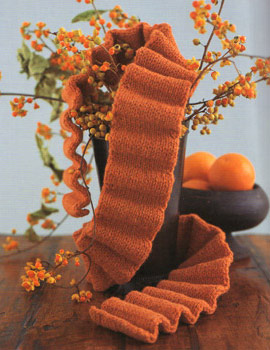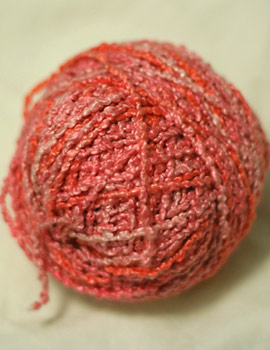 I cast on for the New Wave scarf using Schaefer Yarn's Patty (no longer in production, I believe). I wanted to know if a slinky silk boucle could hold that stiff wavy shape! Answer: yes, it can. Certainly with much less enthusiasm than the recommended Harrisville wool, but the waves were there. My timing was poor, as it ends up, so the scarf never got a proper start (or middle, or finish).
But with near certainty I knew that one day I would return to the book, and knit up another brilliant design contained within.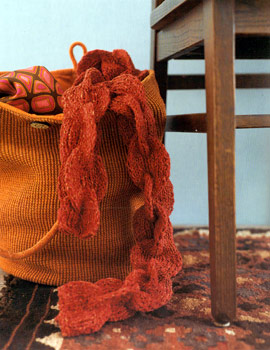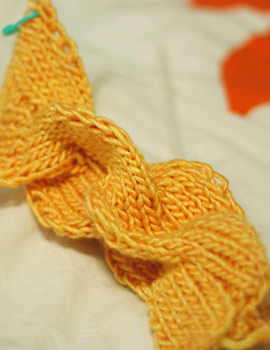 Today I happily share with you the Linked Rib scarf in progress, which I fully intend to finish, unlike its cousin above. Finishing brought to you by: Sundara Yarn Aran Silky Merino in Sunshine – "Just like chocolate, one bite won't do."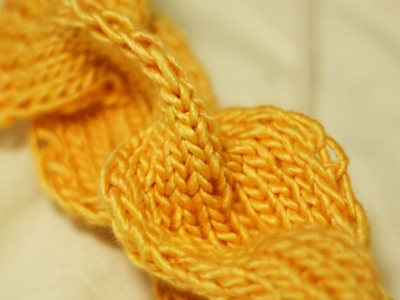 I keep playing with the facets of the fabric. It's like a simple link chain, but not really. It's like a prism, but only in certain cross sections. I know how it's made… I better! I cast on four separate times! Mind you, I frogged the first three attempts not because I had made a mistake, but because I needed to start over in hopes of some day wrapping my mind around the design. I suppose I'm still getting there. Until then, touchy, touchy, touchy!
0
likes