The New Hampshire Sheep & Wool Festival was a great place to sample new-to-me indy-dyed yarns. It's unfortunate (but totally understandable) that brick and mortar yarn shops can't possibly carry all the smaller yarn lines. And if they do stock some, the number of available weights and colorways is often limited.
At NH S&W, however, I got to touch and see many new goodies, and speak with the artists firsthand! One booth in particular caught my fancy, so much so that before leaving the festival, I went back and made sure I didn't miss anything! I'm talking about Spirit Trail Fiberworks. The gorgeous colorways, the many different types of yarn, the owner, Jennifer – eager to tell me all about the yarns, but giving me space as I browsed the display – all wonderful. I was very happy.
That particular day the sun was out in full force, the trees were blooming, I was dressed in cheery periwinkle and apple green… but I was itching for something very gloomy and sophisticated as far as yarn was concerned, I don't know why. I bought some totally gloomy-licious wool for my mom (I'll elaborate later), and followed that with a skein of silk for myself.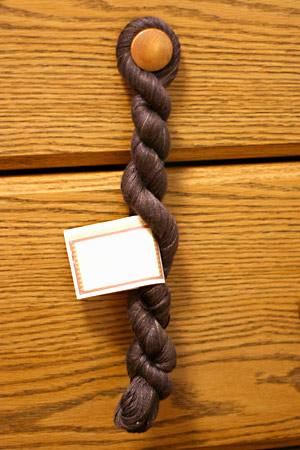 This skein of Atropos silk in the "special" colorway (yup, that's what it's really called) was all by itself, hanging on a display hook – the last of that batch. I suppose it's mainly chestnut in color, though when I put it against my hair, I can definitely see purple and gray undertones (isn't that a sign of a true artist? when the colorway refuses to be categorized as any one thing?). Wonderfully gloomy. As I saw it there, I could not ignore the resemblance to a little turd. A gorgeous turd of silky goodness, but a turd nonetheless. Maybe this photo is more convincing: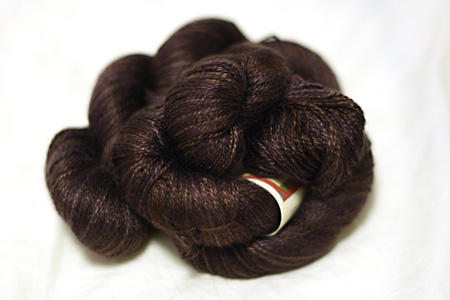 I was a little sad to find out that it was indeed a lone skein, and that if I chose to buy it, I would have to find a creative way to knit up only 500 yards. But then I reminded myself that I actually prefer small scarf-sized scarves, and that I've recently whipped up a few of those using less than 500 yards of yarn each.
Left: Melon scarf from Victorian Lace Today
, 438 yards of HandMaiden Sea Silk.
Middle: Dolphin lace scarf from Victorian Lace Today
, 438 yards of HandMaiden Sea Silk.
Right: Ene's Scarf from Scarf Style
, 400 yards of Sundara Yarn Silk Lace.
I'm thinking another gorgeous beauty from Victorian Lace Today
for my gorgeous silk turd is in order, but which one?
0
likes