Yeah, okay. I definitely owe you some better photos of the fabulous color combinations, courtesy of the artists at Lorna's Laces.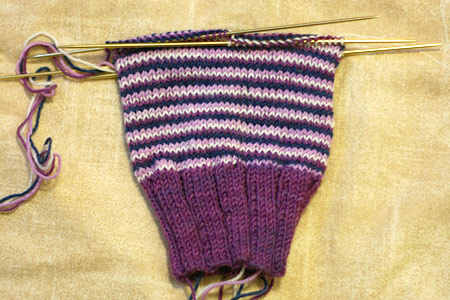 Now let's see if I can show by example how to get there, without any jogs.
Note: The Knitter's Handbook
has diagrams as well – it always helps to look at things from two different perspectives (pages 160-161).
I know it's hard to see what's going on with the stockinette wanting to curl outward and all, so the labels are there to help you. Also, isn't the reverse stockinette of this fabric gorgeous?!?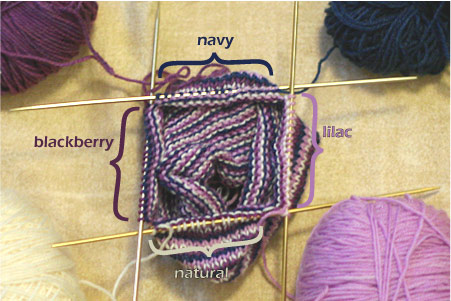 When knitting in the round, attach as many yarns as you'd like, in the order you want the stripes to appear.
In simple terms: The easiest way to do this is to attach colors at evenly-spaced intervals – at the junction of double-pointed needles, as you see here, or at evenly-placed markers if you're knitting a hat, for instance. You can do the attaching by simply picking up a color and starting to knit with it until you encounter the next marker, or by casting on a fraction of the stitches with each color you plan to use.
The whole story: You don't have to use exactly four colors if you're using five dpns as I do here – you can use more or fewer! And of course you don't have to space your yarns exactly 1/n stitches apart (where n = number of skeins of yarn you're using) – you can introduce them every two stitches, if you wish. But let's go with the simplest method first. After knitting a few rounds following these instructions, you'll be able to deduce all the variations on your own ;).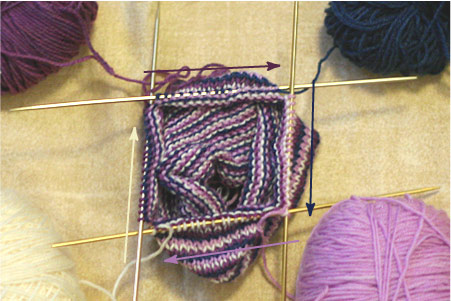 With each yarn, knit until you encounter the next one. After you've done so with every yarn, you will have knit every stitch once; in other words, you will have completed one round.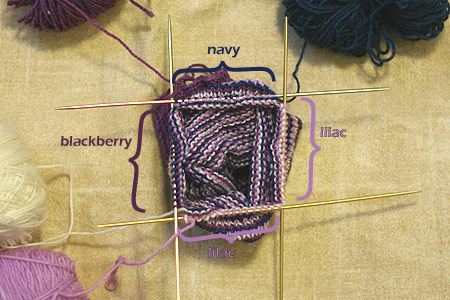 In simple terms: Pick up the yarn at the beginning of your round – in my case, that's lilac. Knit with it to the end of the needle, where natural happens to be hanging out. Abandon lilac, pick up natural, and work to the next junction of needles. Repeat with blackberry and navy.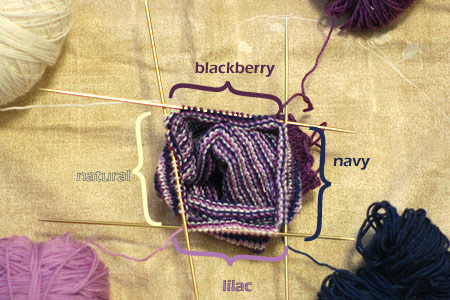 Now navy is at the beginning of the round. Pick it up, and repeat the process!
The whole story: At any given point, you can pick up any of the yarns attached to your knitting and work with it until you reach the next yarn. The only rule: if you reach a junction where two yarns are attached, work with the lower one. No need to pay attention to where the rounds begin, or where you left off last time… You're working a spiral which is n stitches high (where n = number of skeins of yarn you're using), and the colors will arrange themselves accordingly.
In other words – don't worry, keep knitting, things will come out just fine :).
9
likes