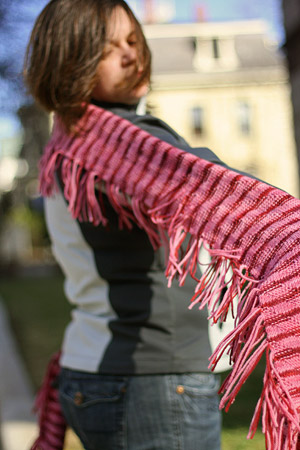 My biggest fear about working with Ingrid's yarn was that I was going to ruin it. That I was going to take something so, so precious to me, filled with so many memories and meaning, and knit it up into something seriously ugly. Especially if the process of knitting it up required chopping the yarn into a hundred little bits!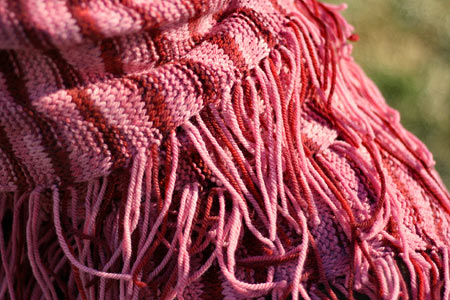 Fortunately I ended up with circles upon circles of fringe, deep and textured and lovely!
Pattern: Focus on Fringe scarf from The Elegant Knitter
by Gina Macris
Yarn: lovely DK-weight wool, about 6 ounces, Dyed by Ingrid!
Needles: 24″ Addi Turbo, US 6
Finished size: about 6.25″ wide, 86″ long, with 4″ fringe.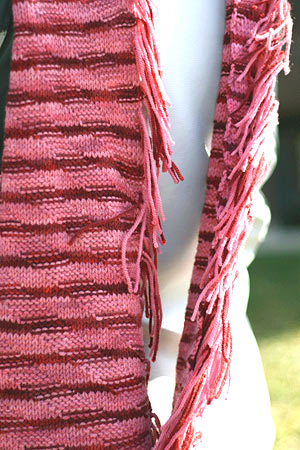 The scarf's multitude of dimensions – the two colors, the variegations of red and pink, the knits against the purls, the diagonal lines, the fringe – that's definitely my favorite part! I'm also glad that my limited and irreproducible supply of wool resulted in a pretty hefty scarf – I love wrapping the fabric round and round my neck, tossing it over my shoulder, looping it this way and that :).
Making the fringe was (honestly) a little tedious: leaving the strands of yarn at the end of every row, pulling them taut, tying the knots, cutting the ends evenly. Well, the cutting part was pretty quick and fun, especially considering how much trouble I had the last time around!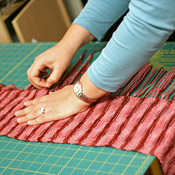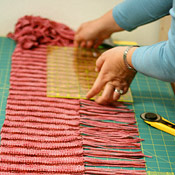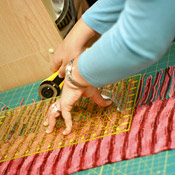 straighten out the damp fringe, aim, and cut (carefully)
Anything is possible with a rotary cutter
and cutting mat!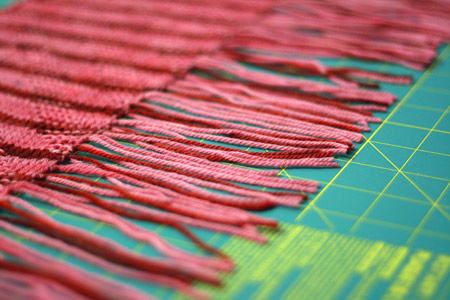 The movement of the fringe in the wind is also quite cool 😉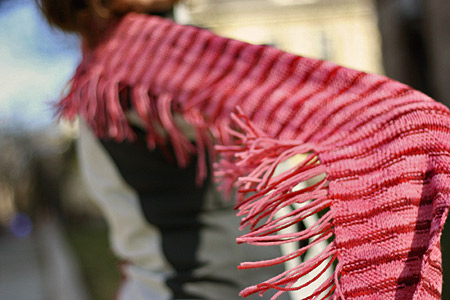 0
likes