While the honeymoon blanket was absolutely fantastic for hammock knitting, I had a smaller, more mindless project tucked away in my bag for airport and airplane knitting.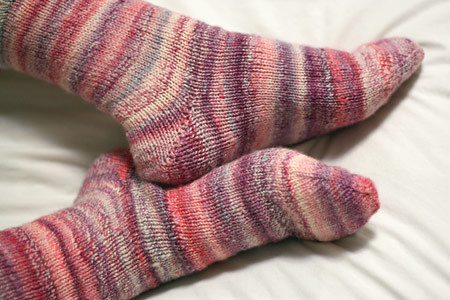 Pattern: simple 56-stitch stockinette sock with a picot edge (à la Claudia) and short-row heel (à la Cat Bordhi
).
Yarn: Sock Hop Yarn, 100% superwash merino, two skeins of Ain't No Mountain High Enough, handspun and hand dyed by the talented artists at Crown Mountain Farms.
Needles and gauge: 7 sts/inch and 10 rounds/inch using Susan Bates US 1 dpns from this set
.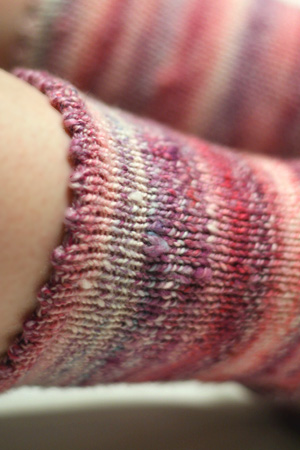 The yarn is everything it's hyped up to be: soft, colorful, captivating, texture-rich and remarkably sturdy (I frogged a few times before getting the circumference just right). And even with two grandma-sized socks eating up 98 grams of yarn, I have 45 grams of yarn left over! That is, 2 skeins of Sock Hop Yarn are enough for 3 average-sized socks!
But here's the amazing thing… the ridiculous thing!
Once upon a time there was only one wooly yarn which my body tolerated without any complaints: Debbie Bliss Baby Cashmerino. Baby Cash is magic: I can wrap it around my neck, bury my nose in it, stick it under my shirt (!), and nothing happens! No itchiness, no discomfort, no panic-like "get it off of me!"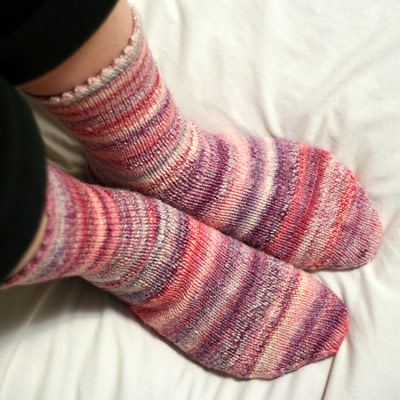 Sock Hop Yarn is the second! I put on those socks, and I did not feel the urge to rip them off five minutes later! If you're sensitive to wool, you know what I'm talking about. Seeing that this yarn is 100% wool, I'm convinced that it's not only the specific type of wool that determines whether a yarn is tolerable to me; it also must be the way the fiber is processed and/or spun!
Whatever it is, Sock Hop Yarn gets a "thumbs up" from me and joins the previously-lonely Baby Cash category. Mmm-hmmm! And, as I mentioned, I have 45 grams left over… maybe I can finally score myself a pair of wearable wooly anklets?!?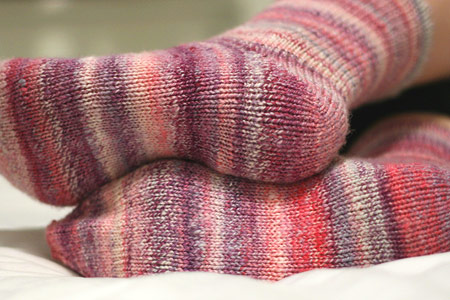 0
likes