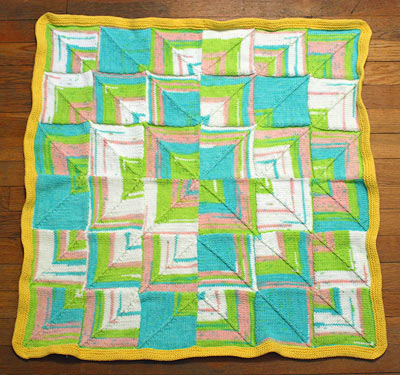 I left it up to chance. I knit the mitered squares continuously, and let Katia Jamaica control the flow of the colors. And I think it turned out okay! Plus, I wasn't entirely sure how I would like this arrangement of miters – a center square with "petals" radiating out, but I think I like it! Yes? No? Acceptable baby gift?
Pattern: I listed the full pedigree and evolution of this project in this post. It's basically a combination of the pattern in Mason-Dixon Knitting
, Mari's Jamaica Baby Blanket, and Kay's No-Sew Mitered Square Blanket tutorial. I threw in a few of my own modifications, and voilà!
Needles: US 5 circs; 24″ INOX Express for the main portion, and a longer Susan Bates Silvalume
for the border.
Yarn: Katia Jamaica, color 4000, 4 skeins. The yardage of this yarn is perfect: one skein is enough for exactly 9 of those little miters. I didn't run out of yarn and I had maybe 5 yards left over. The edging is GGH Sprint(discontinued), color 32, about a skein and a half, used while holding two strands together. Both yarns are machine-washable: a must-have for a baby blanket!
Finished dimensions: about 31.5″ square.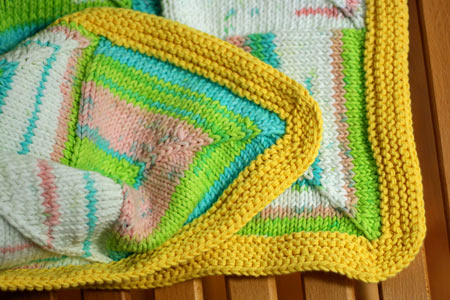 I was able to get nice, rounded corners by knitting what amounts to a wedge where two sides of the border meet. The actual increases are closed yarn-overs, which I always find stretchy and accommodating when it comes to maneuvering in tight quarters.
As I mentioned, I have no aversion to seaming or weaving in ends. But when it comes to a double-sided project like a blanket, I like both sides to look as neat and tidy as possible. I think I was able to make the wrong side pretty by weaving in ends as I went along.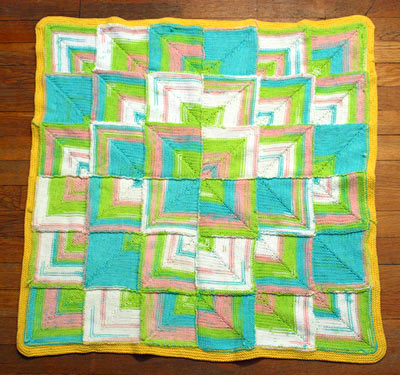 Even though this blanket is destined to be a gift, I'll always remember it as "my honeymoon blanket". I hope the pleasant, sunny vibes travel along with it :).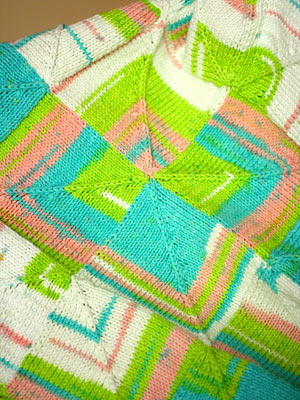 0
likes