My timing could not have been more perfect. Outside Mother Nature is creating a Winter Wonderland, and inside I've finished a lusciously warm brioche stitch neck warmer.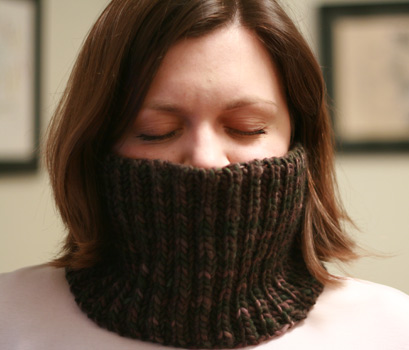 Not much science to this one: brioche stitch in the round, worked over 64 sts on US 8 needles. If some guidance is necessary, this very pattern is in Weekend Knitting
.
It's the yarn that makes this project noteworthy – the wonderfully soft and plush Malabrigo worsted merino. This 6.25″ high neck warmer used up a bit more than half a skein of the Black Forest colorway (#179).
This is my first time knitting with Malabrigo – can you believe it?!? I've worked with the laceweight merino Malabrigo in the past (not too successfully, I'll add), and at last the worsted weight has found its way onto my needles.
Ahh, it is divine. It will pill like a mofo and become a felted fuzz ball in about 2 days, but for now, it is divine, and feels wonderful against the neck.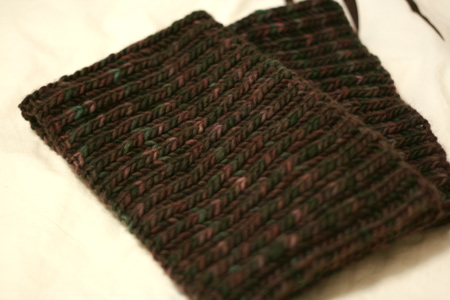 Knitting with Malabrigo was entirely pleasurable. In fact, this is the second brioche/Malabrigo neck warmer I've knit – the first is already with my dad – and my third brioche/Malabrigo project is on its way. I just can't stop!
Malabrigo merino worsted | Burgundy (#41)
0
likes