You know what this photo brings to mind? It looks like an extended hand!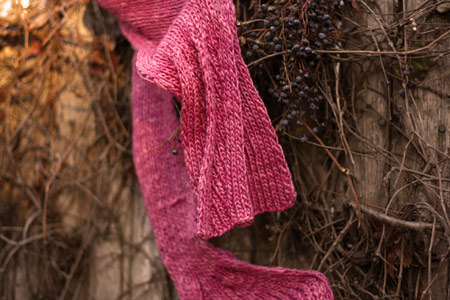 Imagine: a proper Southern lady (or maybe New York City socialite?) gives her hand to a gentleman. "Chaa-aarmed," she says, as the gentleman graces the back of her palm with a kiss.
I'm no Southern lady, of course. No, no! I'm the type of lady who commandeers her neighbor's fence for a photo shoot.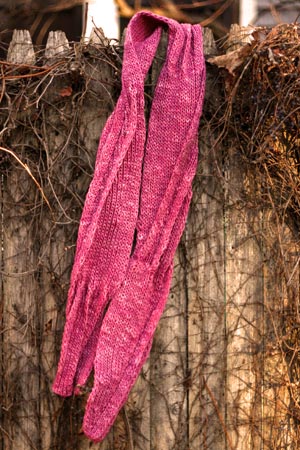 Pattern: Drifting Pleats from Knitting New Scarves
by Lynne Barr (review/preview here).
Yarn: Single-Dyed Phat Silk Phat from La Lana Wools; 50% wool / 50% silk in Raspberry (I think), 3 skeins. A lovely gift from my friend Barbara.
Needles: Bryspun double-pointed and straight needles, US 8. Definitely a great match for this yarn!
Size: about 4.5″ wide and 63″ long. In addition, this scarf is very plump and thick, since it's 1×1 ribbing at its core.
Needless to say, this project worked out marvelously in many respects. For starters, the yarn is absolutely delectable, soft and beautiful, a real treat for all the senses. It has a wonderful texture, thicker in some places and thinner in others, though I noted a real difference in the three skeins I used. The first skein I picked up was really bumpy, varying between fingering and chunky weights. But the other two skeins were surprisingly uniform, resulting in a very consistent fabric and gauge. I think you might be able to see the difference here: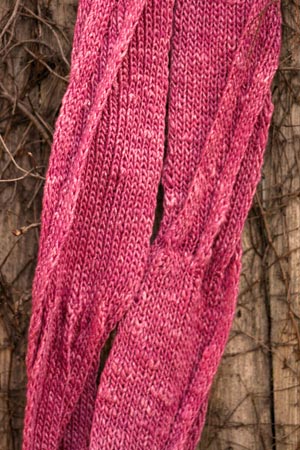 Can you see the smoothness on the left compared with the bumpiness on the right? Just adds to the scarf's interest, I say!
The pattern is genius and mind-blowingly simple in its design. Actually, all of the patterns in this book make so much sense despite apparent three-dimensional complexity. Props to Ms. Lynne for envisioning the structures and developing the techniques to bring them to life!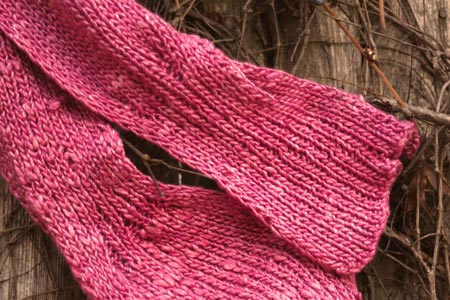 The wrong side of the scarf is as interesting as the right side. Because the scarf is basically ribbed, there's absolutely no curling. The pleats start out as little pockets, then wrap around the edge and disappear into the background. Very cool. The whole concept is very cool, I'd say, and this is definitely not my last scarf from this book
!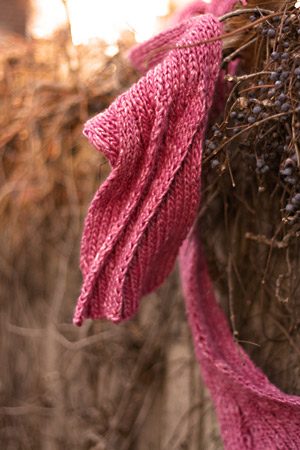 The scarf says, "Bye-bye, dah-ling!"
0
likes