I can count on one hand the number of times I've washed a handknit. That is, washed after the initial blocking. Many of my projects find their homes away from me, sweaters are worn on top of underlayers, hats don't really get dirty, and neither do house socks when you're careful to shuffle around in slippers, shawls… I'm not sure they've seen the light of day since the FO photoshoot!
Ah, solitude and peacefulness permeate the closet of a process knitter.
Only one accessory gets to see the outside world on a regular basis. And, boy, does it ever! The use and abuse my scarves get make up for the pristine dormancy of all my sweaters, socks, and shawls combined! Stuffed into my backpack, crumpled into my hand as I run to catch the bus, ends hastily tossed over my shoulders so they don't end up in my bowl of soup, on the floor in a good number of fine dining establishments all across Boston, tightly wrapped around my mouth and nose on chilly mornings…
My scarves are filthy.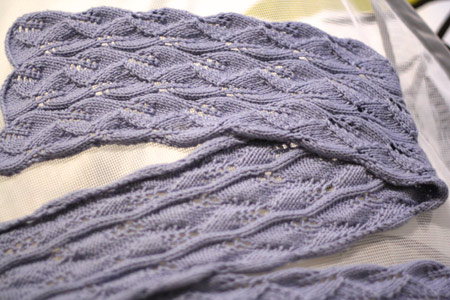 I have lovingly worn the Lace Leaf Scarf (spring/summer 2005 VK) for more than two years now. It is truly one of my favorite, most frequently-used handknit items, even if I didn't knit it myself (Polly knit this one for me).
It's something about the content of Debbie Bliss Baby Cashmerino, and/or the way the fibers are spun and plied – this is the only wooly yarn to date that I've been able to wear next to my bare skin. So, naturally, when I want a little warmth and softness around my neck, this is the scarf I grab.
As of yesterday afternoon this scarf had a few mysterious stains and, frankly, reeked of bad breath. I sent it down a strange and poorly-traveled path – washing after blocking. Cue ominous music, tum tum duuum!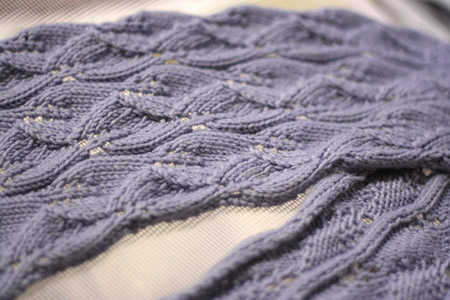 For this particular yarn, I tossed the scarf into the washing machine with my darks – cold cycle, normal agitation. True to its word, DB Cashmerino is superwash and nothing bad happened to the knit fabric (unlike some other "superwash wools" we know, mmmhmmm). I didn't want to tempt my fate with the dryer, so I laid the scarf flat and gently nudged the fabric into shape with my fingers. This morning my scarf was as good as new!
I often wonder about "washing after blocking" generally speaking. I think for the most part it's simply re-blocking. For my sweaters, store-bought and hand-knit alike, the item is washed, reshaped into the familiar sweater form on a flat surface, and left to dry. That's like a simplified blocking – no excessive tugging into shape, no smoothing cables and cajoling colorwork into perfection, no pressing of the seams, etc. For accessories, the process is the same.
I've never had to wash a shawl, but I have helped my mom (over the phone) when she had to wash her Leaf Lace Shawl. Because the shawl had already been blocked severely, the lacework remained largely open and the scarf didn't shrink back to its pre-blocking size when the yarn was dipped into water. I instructed my mom to pin it out, making sure the top edge remained straight and shaping the scalloped edge to its desired spikiness. Apparently this got the shawl back to its blocked glory (until my mom lost the shawl all together, but that's a story for another day).
I leave you with these two questions:
What is your most frequently worn handknit item?
Have you had to wash it? How did you do it?
0
likes