Today I intended to bore you to death.
Today I intended to share with you my progress on the Half-Square in Trinity Stitch. I wanted to show you this wonderful stitch pattern – textured and three-dimensional when freshly knit, but resembling a matrix of round spider webs when blocked. I wanted to share with you the interesting way in which this shawl is constructed – there would be diagrams, talk of right angles and hypotenuses, mention of a garter stitch edge and why I feel it's imperative to nix it in this project…
In other words, today I intended to bore you to death.
But it's Friday, and I got to go home early – maybe you did, too? – and it's sunny, and my mind is abuzz with all kinds of random tidbits I've been meaning to share, and writing the word "hypotenuse" on a day like today should be a crime against humanity. Besides, I've got many more rows of Trinity Stitch to knit, so there will be many more opportunities to return to this topic.
So, I declare today Random Friday with a pinch of Eye Candy. Let's see if you find anything I write today even a tiny bit interesting ;).
——-
Thank you deeply for all you compliments on the Drifting Pleats scarf. It was extremely flattering to receive a note from Melanie Falick herself about it (and, wow! I may have been tempted to pee in my pants from the excitement). This kind of personal connection is very cool.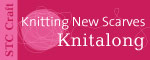 Melanie brought to my attention the Knitting New Scarves KAL, which I joined immediately, as well as the KNS scarf gallery on her blog. If you weren't satisfied with the handful of photos I shared in my book review, you can see all 27 in the scarf gallery! It's also nice to have the whole bunch side-by-side when selecting a project in addition to being able to flip back and forth in the book.
The book's author, Lynne Barr, will be at the KnitWit Yarn Shop and Café tomorrow (details here), and if I happened to be anywhere near Portland, ME, I'd be there in a second! I've been in Portland only once in my life, but I made sure to stop by this shop, which was warm and lovely. So, I say, you go on my behalf (if you can), then tell me all about it ;).
——-
In the Eye Candy Friday portion of today's program, I'd like to share with you the following "before and after"…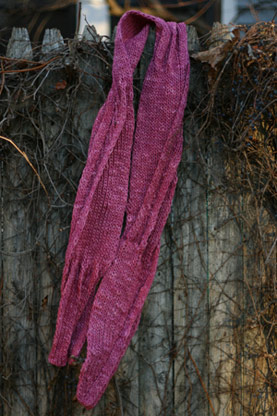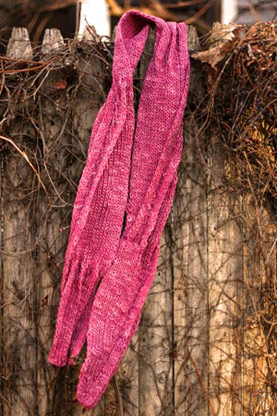 …and praise the powers of the Photoshop Gods. It's wonderful to receive compliments about my photos – thank you. I think it's so interesting to differentiate between a good photo and a better photo as a result of extensive processing. As you know, I'm a self-taught photo-taker (the term "photographer" does not yet apply, I'm certain), and a self-taught Photoshop junkie. I futz around, keep only a fraction of the photos I take, and use the Photoshop "Step Backward" function almost exclusively. I'm honored that my photos combined with my post-processing are now warranting compliments. Truly honored.
——-
I was a little hesitant when Knitting Contessa Tina asked me for a Holiday interview for her blog. Okay, more than "a little" hesitant. Perhaps "highly resistant" is more like it.
"Holidays" are a strange time for me – coming from a mixed and largely-forgotten religious background, being raised in a Soviet Godless regime, hating the craziness of Department Stores this time of year… But it's not strange to pause and think about our lives and our gifts, both given and received, at any ol' time during the year. So, I agreed, and my thoughts will be featured on Tina's blog coming up soon.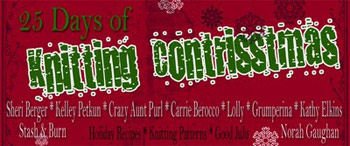 Now that Tina has made an official post about her Knitting Contrisstmas I realize that all she had to do to get an enthusiastic "Yes, I'll do it!" out of me is tell me the other participants. Because, come on, look at the other gals being interviewed!!! I'm so flattered to be included!
——-
Speaking of Christmas-y things, I find my burning desire to knit these absolutely ridiculous: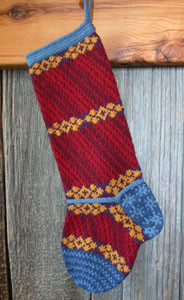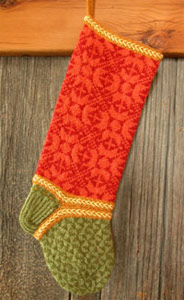 Judy's Colors Christmas Stockings | St. Nick & Red Velvet | for sale…
almost everywhere
Why do I want to make these? What is wrong with me? Faith and hope and love are one thing, but Christmas stockings are absolutely nonexistent in my culture and traditions. WTF? I'm going to justify this crazy obsession by waiting until after Christmas to get the kits. Whey they're on sale, of course! They'll be on sale, right???
——-
In conclusion, I'm so glad we didn't talk about hypotenuses today.
0
likes