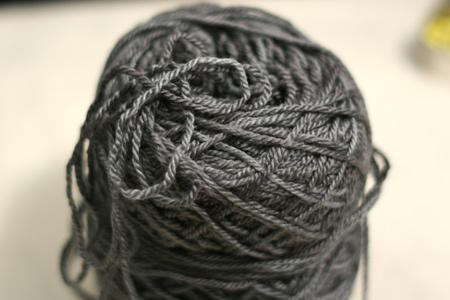 It just glows, doesn't it?!?
My mom was extremely upset when she lost her Leaf Lace Shawl. She thinks that she dropped the scarf in the supermarket, and that someone must have picked it up and appropriated it. She called a few weeks ago after looking in every possible nook and cranny and coming up empty-handed, and I could tell that it wasn't simply the loss of a scarf that was upsetting her, it was losing something I had knit for her.
My mom was certain that I would be devastated. Hah! The last time I saw her shawl it looked very (lovingly) worn, so I know it had a long and full life. It will now rest in peace alongside the earliest pairs of socks I knit for my grandma. Honestly, my mom is long overdue for another scarf, since she actually wears these things! So, onward!
The doll that my mom is, she asked for something "identical" – same size, same shape, same color. The first one was apparently "perfect." While I won't bother with the same pattern, I'll try to knit something similar in size (29.5″ deep and 64″ across post-blocking), and use the original yarn. Oh, yeah, I still have some of that gorgeous wool/silk blend that Sundara dyed for me two years ago (bonus: and now I'm able to capture the beauty using a much better camera
!). I know I had previously promised the leftovers to the mighty yardage-hungry Mac & Me Ruffle Scarf, but that beast has been sitting in a plastic bag for years now without any progress, yet managing to tie up every single one of my US 5 circs.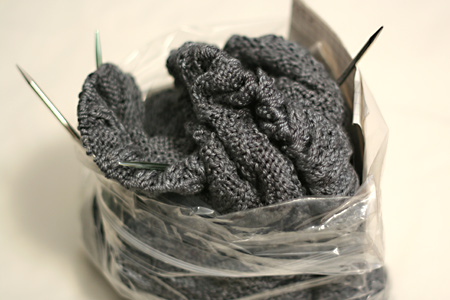 Buh-bye!
The pattern I chose is another one from the Canal du Midi family: why, oh why, was that gorgeous shawl knit in a mottled colorway which totally obscures the stitch pattern?!? The Half-square in Trinity stitch from Victorian Lace Today
has clear potential if executed in a solid color, don't you think?

Considering that the pattern produces a much larger shawl than I want to knit using a yarn which is finer than the one I'm planning to use, I went ahead and knit a little swatch.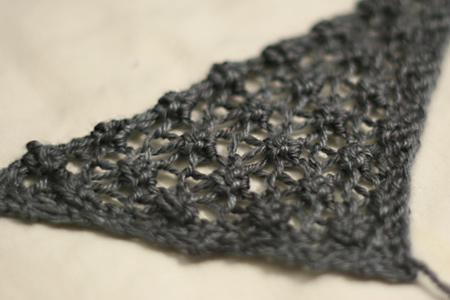 I'll be casting on fewer stitches, knitting fewer rows, and while I'm at it, changing that border to be less… flowery. I think my mom enjoyed the scalloped edges of her Leaf Lace Shawl, but I'm guessing that the leaves surrounding the Trinity stitch Shawl are a little too dramatic for her taste.
I should mention that the charts and photographs of the Trinity stitch Shawl in VLT left me a little confused. Namely, I couldn't figure out which side of the swatch was the right side! Only after consulting BW1
(p. 129) I distinguished the right side (above) from the wrong side (below). For the record: in Chart A, odd rows are WS, even rows are RS.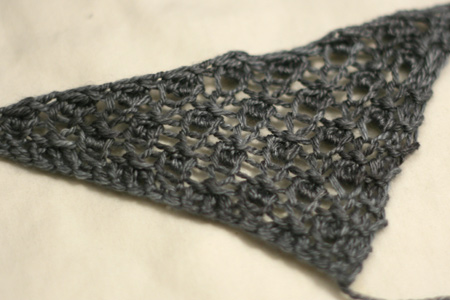 Pretty wrong side: always a plus in a shawl
The interesting thing about this "trinity stitch" is that it's not traditional lace! There isn't a single yarn-over in the main portion of the shawl! Yet another excellent reason to swatch and learn the way this textured fabric behaves.
0
likes