With my recent choice to abandon sweater knitting in favor of knitting, well, everything else, two things have basically happened.
First, all of a sudden every sweater pattern started to look incredibly appealing. Mind you, there's no way I'll be knitting a sweater for myself, this much is definite. In fact, I've been actively seeking meaningful ways to rid myself of my completely-unworn handknit sweater wardrobe. But I can no longer exclude the possibility of knitting sweaters for others. I have the lovely yarns, the wonderful patterns, the recipients who'd actually appreciate my work (i.e., other knitters – will a surprise sweater arrive in your mailbox?!? You never know!), so why the hell not?!?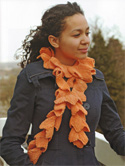 The second thing to happen since the great sweater-knitting boycott is a search for interesting non-sweater projects. Something that will provide the same commitment and intensity, but with a different product at the end. The Tote was a start, and the Focus on Fringe scarf is a move in the same direction (FOF, by the way, is coming along nicely, albeit on the slow side, since it's a totally non-portable project).
Do you remember the Dreamy Spiral Scarf from The Elegant Knitter
? Along the lines of accessories which are interesting to knit, here's a project that will take some brain power, right? Furthermore, when I first saw this spiral scarf, it got me thinking:
Why do most scarves exist in only two dimensions?

Certainly there are exceptions: there's this Dreamy Spiral scarf, Ruffles from Scarf Style
, some of the Shibori patterns… Allowing ourselves to include the textured, we can count some of the heavily cabled designs, maybe the Swiss Cheese hole scarves, entrelac, that funky collar from Victorian Lace Today, and… And??? Help me out, my friends!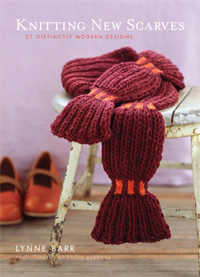 The moment I saw a review of Knitting New Scarves: 27 Distinctly Modern Designs
on the purl bee, something clicked! My search for accessories which are actually interesting to knit, and the idea of three-dimensional scarves, here, in perfect harmony. It's like the Dreamy Spiral Scarf times 27!

Tell me, how can you look at these photos and NOT wonder how the scarves are knitted? You cannot. Nope. Resistance is futile!
Take the Tricorner scarf as an example. First, we see a clear picture of the scarf. Next, the author explains her inspiration and gives us a little preview of the techniques used. See those little red "arrows" at the bottom of the paragraph? Each scarf is accompanied by such a diagram, which illustrates the basic geometry of its construction! The actual pattern has all the basic pattern info, and when needed refers to an illustrated glossary of special techniques in the back of the book.
In addition, some of the designs have their own diagrams, which, frankly, get me unreasonably excited. Because when was the last time you knitted a scarf pattern which required a diagram with four labeled arrows? That's what I'm talking about! Scarves can be interesting, special, captivating, and entirely NOT mindless to knit! Which one will I attempt first? I'm at a loss! I suppose the one with the fanciest diagrams, right? 😉
1
like