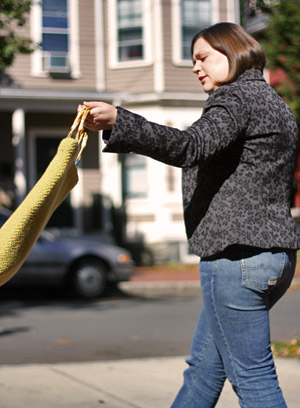 Yes, I look grumpy, but I certainly wasn't feeling grumpy when the photo was taken! Saturday was such a sunny day, and I was merely squinting in the bright sunlight while promenading with my new tote!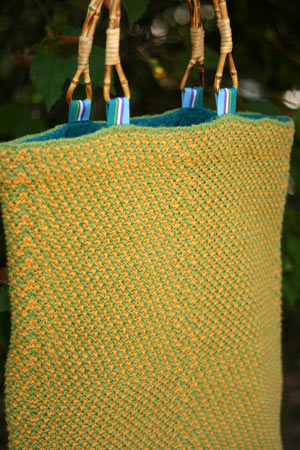 Pattern: The Bag by Wendy Wonnacott from No Sheep for You
.
Yarn: Hempathy by Elsebeth Lavold, 41% cotton, 34% hemp, 25% modal. I used 4 skeins of Vivid Green (017) and 3 skeins of Sunflower (014) (from the Fuzzy!).
Needles: US 3 Susan Bates 24″ circ
Finished dimensions: about 14.5″ wide and 16.5″ high.
Extras: most of the doodads are detailed in this entry – the handles, the grosgrain ribbon, the fabric lining, and so on.
I can't believe it took me more than 3 months to finish this project! I guess there were some moments when I set it down in favor of other projects. Or maybe it took a while because the fabric is very dense, requiring many more stitches and rows than may seem at first glance.
I think Hempathy worked very well for this project – it has a wonderful rustic quality without cramping the body after a few hours of knitting. The yarn is quite soft in the skein, but becomes even softer and more supple after machine-washing and drying. The two colors I used are vivid and lively, though somewhat muted when placed next to each other. I think the teal lining fabric and colorful grosgrain brighten things up a bit.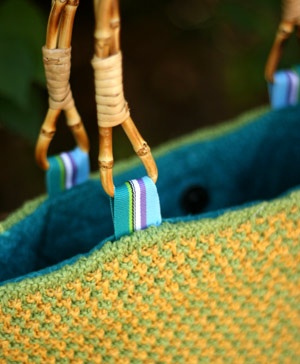 The stitch pattern is simple and intuitive (as long as you mark your sections), and I think knitting this bag is comparable to knitting a simple sock. Not so bad in the portability department, either. The actual bag pattern didn't do it for me – I ended up converting my bag to a tote, and omitting the flimsy garter stitch handles. But those choices are yours to make after the knitting is finished – the knitting part is the same regardless of the final shape.
Speaking of shape… It was important for me to make my tote stable, so I made a quilted lining and used flexible plastic to hold up the top edge. Now I can swing my tote all I want, and it won't morph into a pile of yarn ;).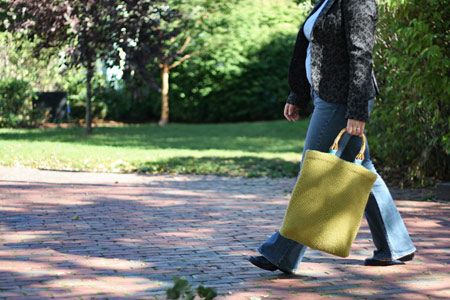 0
likes