Until I have a moment to dig out my scanner and show you the latest book to completely blow my mind (!), allow me to entertain you with snapshots of my newest project.
Remember my desire to knit with rustic yarn? Linen, hemp, kitchen twine… whatever! Apparently an entire tote-worth of Hempathy wasn't enough. Two cones of Louet Euroflax later, I'm in linen-knitting heaven!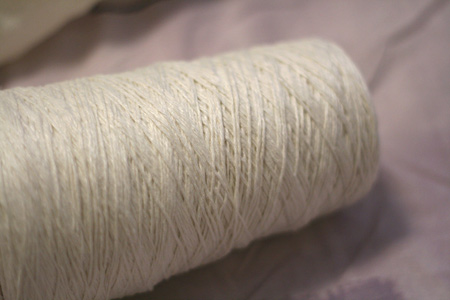 I just love passing this yarn through my fingers. It's decidedly different than the soft merinos, the silks, and even the cottons that I typically use. Also, this is my first time using coned yarn, which makes me sort of giddy in a kid-like way – look! It's a big spool of yarn! Hehe!
The pattern: a most unique union of yarn and fabric by Annie Modesitt from Melanie Falick's Handknit Holidays
.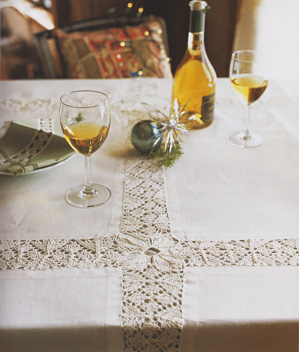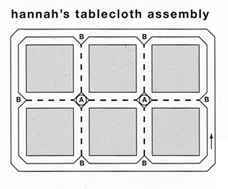 You start out with six 21″ square linen napkins. Each napkin is bordered by handknit lace, then the six are joined together, and an edging is attached around the whole perimeter.
Ever since I noted Hannah's Tablecloth on a Ravelry forum, and saw Blacktabi Liz's version in real life, I've really wanted to make one! I think it's the whole linen tablecloth aspect that had me hooked – growing up, linen linens (hehe) were a staple in our household, and I wouldn't be lying if I said my mom still uses them on a regular basis, 30 years later!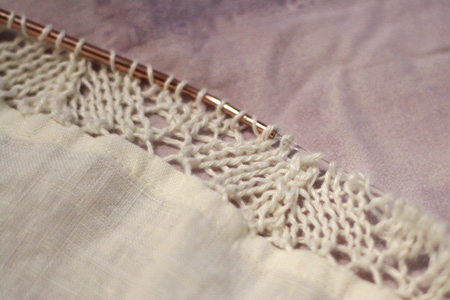 The 21″ square napkins were a special order from LinenMe (though the vintage selections on eBay tempted me sorely for a long time, too), and the coned Euroflax came from Lanas de Libelula, and the needles are nothing fancy: just Susan Bates circs
.
Yet somehow, with every stitch I knit, I keep thinking, "I'm knitting a family heirloom. I will use this for many years. My grandchildren might touch this fabric. Ooo!" Such simple ingredients, such a meaningful project.
0
likes