Remember the poppy sock? The one which brought back all those childhood memories? It is done, and ready to go to my friend, who will knit it a mate!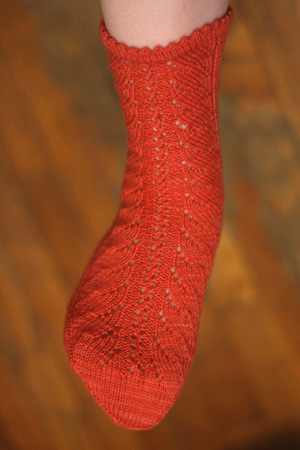 Pattern: Leaf Lace Socks by Susan Lawrence from Vogue Knitting's The Ultimate Sock Book
.
Yarn: Lorna's Laces Shepherd Sock in poppy (50ns, 2 skeins), from Linda's store. Hands down my favorite LL colorway to date!
Needles: Susan Bates US 0 dpns, set of 5 (these ones
).
It's quite a beautiful pattern, isn't it? All about the details: right up my alley!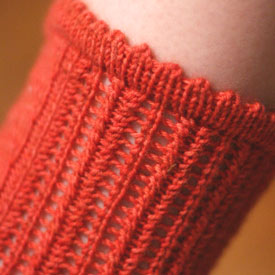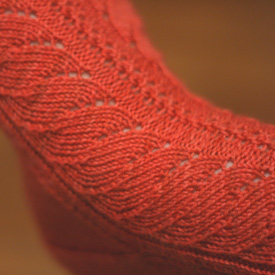 We start out with the pretty picot cuff, and go on to the swirling lace along the instep.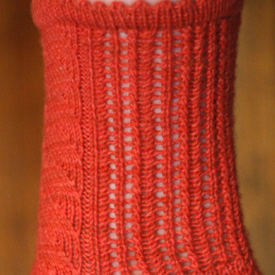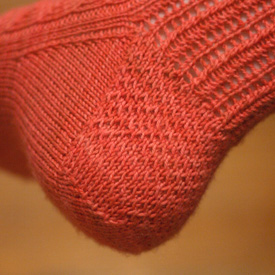 I love the simple lace patterning on the back of the leg – it's easy to knit, but adds a lot of interest. The eye of partridge heel fits in perfectly with the rest of the sock.
I hope my friend appreciates all these little details as much as I do! I'm quite certain at least the color will be a hit!
A word about the book (since I haven't seen it mentioned too much) – Vogue's Sock Book
reminds me of Sensational Knitted Socks
, but with much cooler sock patterns. For instance, this pattern is unique and beautiful, and I've already cast on for the gorgeous Bavarian Socks for my grandma!
0
likes