My childhood was amazing. I have so many vivid, spectacular memories. Now that I'm older, I realize that many of my early days consisted of transforming very simple living into something incredibly meaningful. I remember running through the clotheslines on hot days, feeling the coolness of the wet linens against my skin. I remember pillaging my neighbor's yard for mint leaves, and while I was at it, feasting on some "almonds," which were actually the pits of unripened peaches. Or was it feasting on some unripened peaches, which were actually the fleshy outsides of almonds? I remember diving in the Black Sea and collecting hermit crabs, then unceremoniously relieving them of their shells and setting them back into the water; the shells becoming necklaces and bracelets.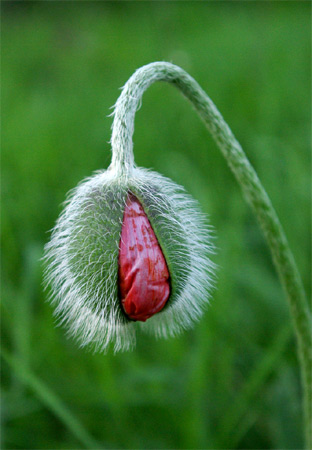 I remember a childhood game I'd play with my girlfriends. We would gather unopened poppy blossoms, sticky milky poppy juice getting all over our hands. We would make a wish, then guess the color of the poppy inside the blossom – white, pink, or red. Slowly we'd peel back the furry green outer leaves, and if the poppy was the predicted color, our wish would come true! I remember the feeling of the nascent poppy petals – silky, smooth, fragile.
I remember the color of the red poppies, my favorites – neither coral, nor red, a tint of orange running throughout. And here it is, captured beautifully: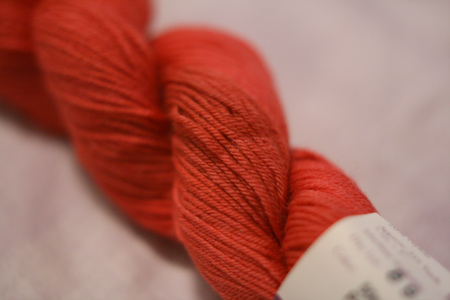 The folks at Lorna's Laces have done it again! For me, personally, this is the favorite color of LL I've ever used.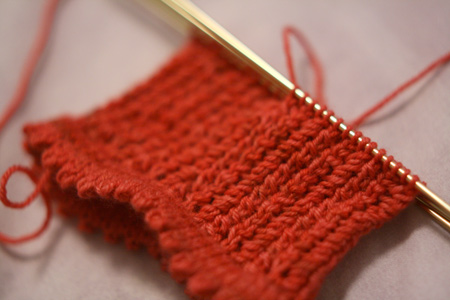 A sock for a friend. Being that she's a knitter, I plan to let her knit the second one herself – that should be fun! The yarn is knitting up beautifully, as always, and my memories of poppies make it even more special.
0
likes