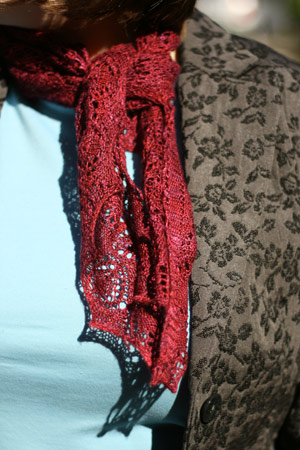 It's not the biggest shawl I've ever knit, but I think it's the most beautiful.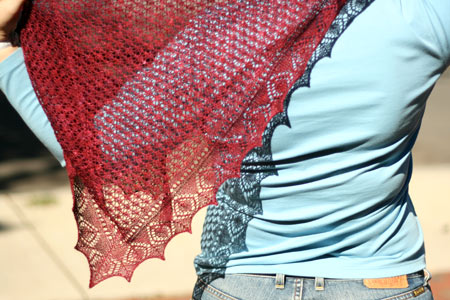 I won't be able to wrap my entire body with it on a cold night, but it's cozy just the same, because a dear friend will get to wear it. Plus, my uber-cozy Ene is coming soon, all the way from Seattle!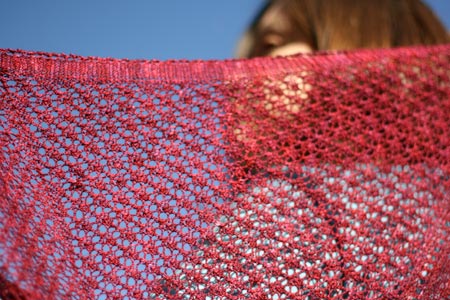 Let's take a little peek (hee!) at this gorgeous combination of yarn and pattern.
Pattern: Ene's Scarf by the venerable Nancy Bush from the Scarf Style
collection.
Yarn: directly from the hands of the Master, Sundara Yarn Somewhat Solid Silk Lace in Wine with Violet.
Needles: INOX aluminum/grey US 0 (2.0 mm) circs, 24″ long. These weren't my absolute favorites, but they got the job done.
Finished size: 40″ across the top, and 21″ from top edge to point.
Thin yarn combined with tiny needles = a very small scarf, indeed. Though Sundara's silk comes in hefty 100 gram skeins, this scarf took up only a fraction of that amount – 39.0 grams, about 400 yards.
On top of that, I blocked very gently by steaming the fabric and spreading the lace with my fingers – Sundara and I agreed that we wouldn't over-stretch the lace, in an effort to avoid that stiff silk feeling. Steam-blocking worked wonderfully, and the scarf came out soft and supple. I'll be the first to admit that this blocking technique could have vastly improved the final appearance of my wafer-crisp Fir Cone scarf.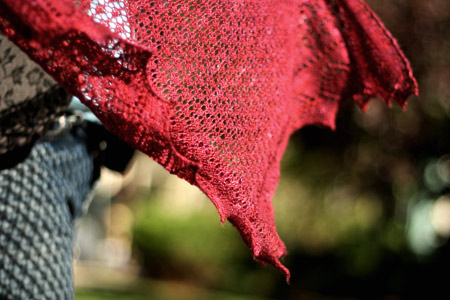 How can I tell when I'm truly entranced with a project? When I can't narrow down the photos to include in the FO report! When a "mistake" photo (you're seeing the wrong side) is so beautiful, it inspires me to explore more: shadow and movement in the wind. Enjoy!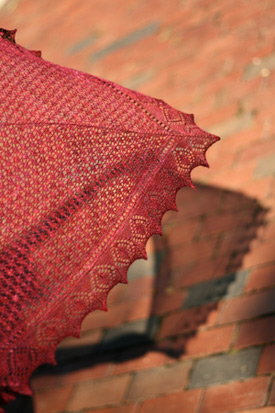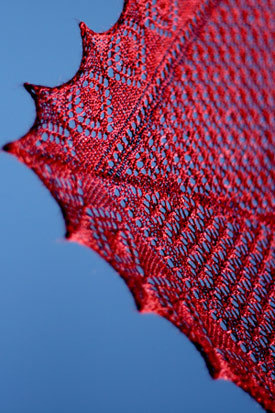 0
likes