I'm so glad to see that you share my enthusiasm for Knitting New Scarves
! Seriously, this book is totally kickass. And Lynne Barr dropped me a sweet note tonight. Gasp! He! Didn't know you were reading :).
Promise me that you'll at least check it out, okay? At your public library, at your local yarn shop, at Borders… whatever.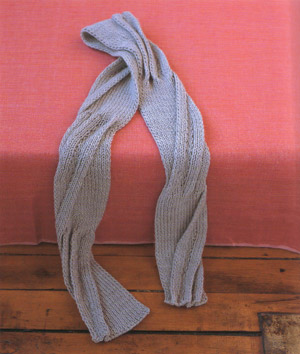 So, was there any doubt that I started a scarf from this book right away? No doubt. I chose the Drifting Pleats scarf because, well, read the description. Plus there are three full pages of special instructions belonging to just this one scarf!
As soon as I cast on and started knitting the first… no, second row, I was like, OMG, WTF?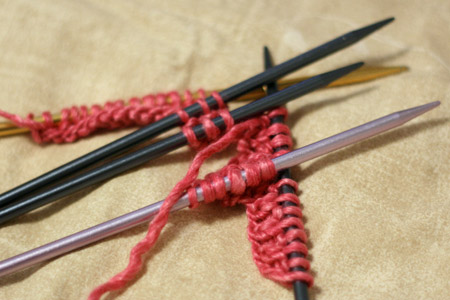 All these stitches at right angles to each other, all these needles, the yarn bouncing between all of them… Plus the pattern – it's just one of those patterns that, no matter how many times you read it ahead of time, you have to sit down and start knitting to actually get it. So I was trying to get it while juggling 5 dpns, 2 straight needles, and some stitches on top of that. Yeah.
But then it got easier, didn't it?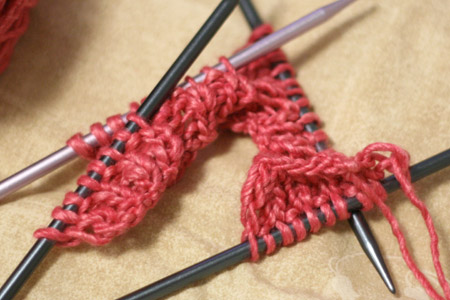 At this point, maybe 4 or 5 rows into the pattern, I'd say I was still a little confused. But seeing the pleats forming, the pattern, with all its crazy manipulations, was starting to make sense!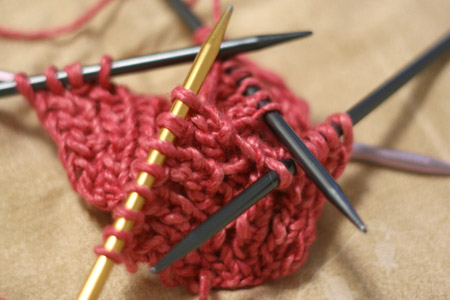 Here we are, at the "teepee" stage. This is what, ten or twelve rows later?
I know it looks like a total disaster, but for me, at this point, the pattern makes total sense. It's amazing! I can see how you knit across the pleats, then across the background, then shift the pleats, and do it all over again. Just like following the pattern for my tote, you have to actively think about the stitches. Following the directions blindly… I think that could be disastrous! But understanding the stitches hugely simplifies the directions, until they are more like "guidelines" than anything else.
The one total act of ridiculousness I've already committed is using my aluminum Boye needles (both dpns
and SPs
are required). With so much manipulation, and the weight of the metal needles, they slip out like nobody's business. The local yarn shops had bamboo needles galore, but that material is simply not for me, no matter how precarious the stitches. So, the metal Boyes will do for now, and I've ordered some Bryspuns from Paradise Fibers as replacements (I found they had super-cheap shipping).
And the pretty pink yarn? I'm so glad you asked! Because it is incredibly luscious, and meaningful!
This yarn feels amazing, smells even better (green tea!), and just like Ingrid's yarn, holds a lot of meaning for me. It's a gift from my dear friend Barbara, who knew me and my knitting (feeble attempts at knitting, at that time) way before this blog ever came into existence (hi, Barbara!). I've been hoarding this yarn for many months now, waiting for the perfect pattern – I have a scarf's worth, and I knew it wouldn't work well with a very complicated stitch pattern. Though geometrically complicated, like the Drifting Pleats, is a-okay!
0
likes