While this blog is typically "all business," I'm going to get sentimental and sappy for a second in order to introduce my newest project.
Two thousand four was in many ways the worst year of my life. Lab work and teaching were stressful and time-consuming, being out of classes strained my friendships with my classmates, and I was in a rollercoaster relationship from hell. I'm not exaggerating when I say that I cried myself to sleep every single day of that year. I was lonely, sad, moving through my life in a daze.
During the summer I taught myself to knit – the circumstances of that glorious event are documented here. I wish I could say that knitting fixed all my problems, but fairy tale endings occur very infrequently in real life. While life marched on, knitting provided me with a nice distraction in my spare time. Instead of being consumed with panic, I would flip through pattern books and troll various knitting boards.
And thus, I made my first set of internet knitting contacts – a handful of wonderful ladies on the about.com knitting forum. They held my hand as I learned the most basic techniques: (I was "surprisegirl" on the forum)
(click for bigger – it's quite amusing)
We were all beginners once, right? 😉
In October, one of the ladies invited me to the Wool Arts Tour in New Hampshire. I was thrilled to pieces! Just a few days before going I had my heart broken, chewed up, and spit out, so a trip out to the country was just what the doctor ordered. I was beyond excited.
Knowing that we'd be visiting small farms, I came with cold hard cash in hand. Two hundred dollars, to be exact. Oh yeah, I was going to be the big spender that Monday. I had been knitting for a whole two months, and I was ready! But of course once I was actually faced with wooly goods, I was completely lost. While my hostess knowingly combed through fiber, yarns, shawl pins, and spindles, all I could do is grin at the angora bunnies.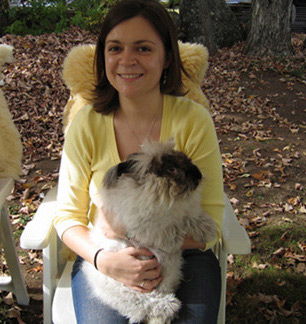 The day was coming to a close, and I had purchased nothing. At the very last farm we visited, I spotted a basket of hand-dyed yarns – small hanks in many juicy colors. I dragged the basket out into the dwindling sunlight, and with the help of my hostess, selected 3 skeins – two pink, and one burgundy. Total purchase price: $11.90.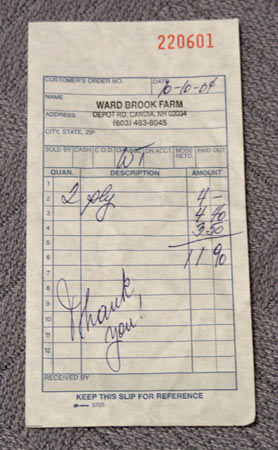 I know this because three years later, I still have the receipt. And I still have the receipt because I'm a sentimental fool, because that day was so incredibly meaningful to me. Because that day defined me in some way, inspired me to keep going, propelled me to seek balance once again.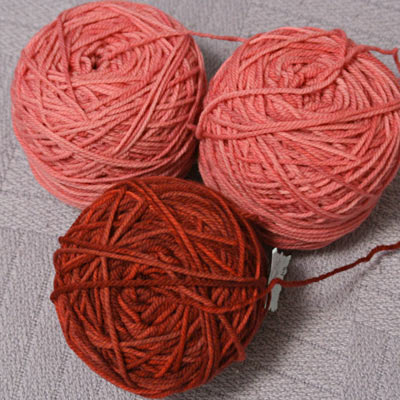 If I have such attachment to the receipt, you can just imagine the meaning I ascribe to the yarn. It's just some wool, yet for three years no project has been good enough. This one won't show the variegation, and this one requires way more yarn than I have, and this one is better suited to cotton… In addition, I really wanted the project to be simple, in accord with my knitting experience (or lack thereof) when I bought it.
Finally, something caught my eye, and I decided to break out the only yarn in my stash that is truly irreplaceable: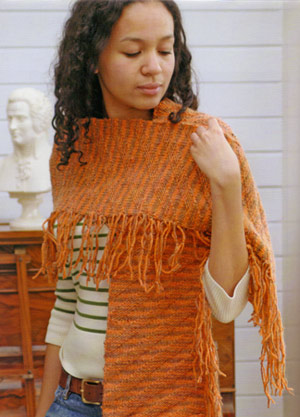 Focus on Fringe scarf from
The Elegant Knitter
by Gina Macris
The Focus on Fringe scarf is exactly what I wanted – simple, delicate, interesting, easy to incorporate into my wardrobe. There are other wonderful scarves in this book
– I'll show you some pics later (this post is already long enough). But this one seemed to be the perfect match for my special yarn.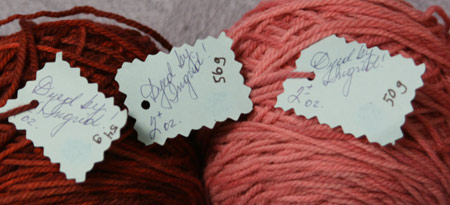 I'm not sure who Ingrid is, but her handiwork is very special to me. I've touched this yarn and looked at those jagged-edged labels enough times to know them by heart. Thank you, Ingrid.
0
likes