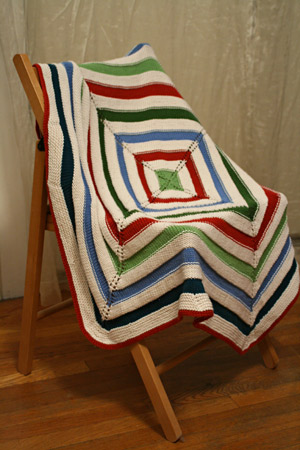 Pattern: Ribbons Baby Blanket, Evelyn Clark for Fibertrends.
Needles: a variety of US 6 (4 mm) circs
Yarn: Gedifra Korfu, colors 2011, 2061, 2025, 2022, and 2068; Classic Elite Sundance, color 6249. Both yarns are 50% cotton, 50% microfiber, but contrary to my first hunch, they are not exactly identical.
Based on the weight of this blanket (1 lb. 4 oz.), I used a total of 12 balls of yarn, about 1000 yards, though I didn't keep track of the usage of each individual color. There are 15 stripes, plus the garter stitch border.
Finished size: 34.25″ square. Hey, look at that! The power of math at work!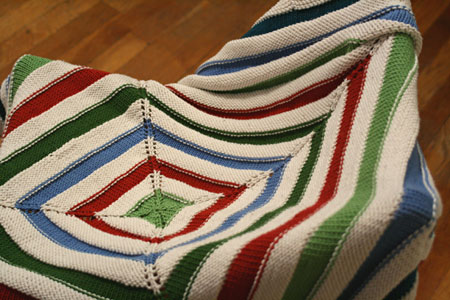 Though a little cumbersome towards the end, I'm very happy with this blankie. My favorite part has to be the subtle ruffles formed by the alternating knit and purled stripes.
Weaving in the ends was an exercise in patience: the Russian Join worked awkwardly with this cotton yarn, so I turned to the Overcast Method whenever I could. What remained had to be woven in at the end, one at a time.
I didn't use any special trickery – just a very long tail (oh, about 10″, I'd say), weaving in 9″ of it, and leaving about an inch hanging in the air. The little doodle in the back fluffed up after the washer and dryer, and I'm hoping that will prevent it from snaking around. It's not the neatest thing in the world, but I don't think it's awful, either.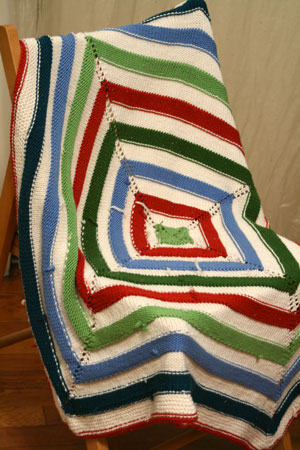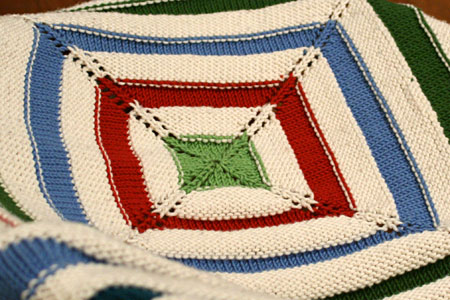 Other than mentioning the tidy crochet cast-on at the center and working all the corner stitches as knits, I'm not sure there is much to add! It's a lovely, easy pattern.
Well, I guess there's one last thing to show you: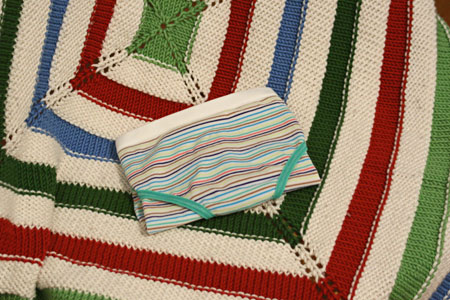 0
likes