A specific example escapes me, but you know how sometimes the same yarn is sold as two different brands? It comes from the same mill, with a fraction branded as ABC Yarns, a fraction as XYZ Yarns, and so on. But it's really all the same.
Well, my love for Gedifra Korfu is clouding my mind, and I'm starting to see it everywhere. Is this nameless yarn on eBay… Korfu?!? And most recently: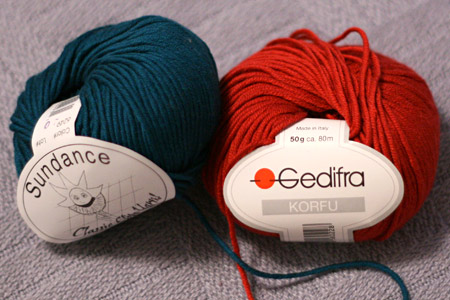 Oh my! I think I see Korfu! The little skein looks and feels the same, the way the yarn is plied and its thickness looks identical, the composition matches (50% cotton, 50% microfiber), both are made in Italy, the care instructions are the same… could it be?
The yardage varies slightly according to the labels: Korfu boasts 87 yards per skein, while Sundance is only 83. But I think I'm going to go ahead and claim that, if not twins, these two yarns are brothers! Welcome to the family, Sundance! Enjoy your journey as a stripe in the Underpants Blankie! Conveniently, I just finished a white stripe and need to knit a colored one next 🙂
0
likes