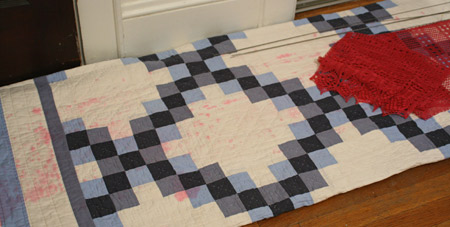 Yes, blocking my dear Fir Cone scarf did a number on my hands, my bathtub, and my quilt. I knew the yarn would bleed, but I was not expecting fruit punch consistency wash after wash after wash. At one point I tossed some Synthrapol in there, which did nothing. After hours and hours of rinsing, I'm certain there is still loose dye in the fabric. Maybe it will rub off on my neck and my clothes – I don't know.
And, please, do not worry about my stained quilt. This is my dedicated blocking surface (evidence: here, here, here, here, etc.), and believe me when I say, this is a promotion. At one point this (thirty dollar at Bed Bath and Beyond) quilt covered my college apartment couch and everything else that implies. Serving as a blocking quilt is ultimately better for its ego. I'll spritz it with some stuff before its next laundering, but I won't obsess over these pink stains because they perfectly match the brown "mystery" stains on the other side :).
And the scarf? It's quite lovely.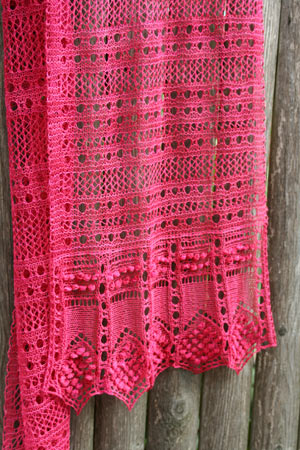 Pattern: Scarf with fir cone lace border from Victorian Lace Today
by Jane Sowerby (review/preview here).
Needles: Addi Lace circular needles, 2.50 mm (approximately US 1.5). While wonderful in many ways, I wish they were as slippery as the originals. There, I said it.
Yarn: Schaefer Andrea in Clara Barton, 100% silk, about 800 yards (3/4 of a single 1093 yard skein).
Finished dimensions: approximately 10.25″ wide and 83″ long.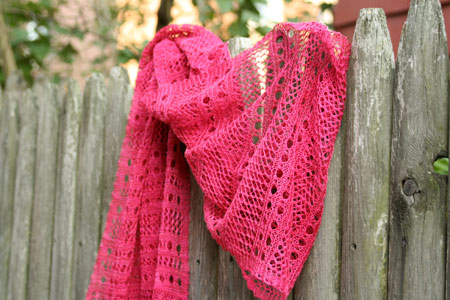 Well, it's certainly a gorgeous pattern. Those googly mooglies of the highest caliber are a fantastic three-dimensional detail, and the main part of the pattern is light, airy, and easy to knit.
However, I think my yarn choice brings the beauty of this project down a notch. After bleeding like all hell, I feel the silk has lost much of its former luster and sheen. It's very stiff now, like thin tissue paper in desperate need of fabric softener. Considering the buckets of fruit punch-like water that I washed down the drain, it's not surprising that the color of the scarf is duller compared to the skein. The brilliant crimson that first attracted me to this yarn is now a washed-out magenta.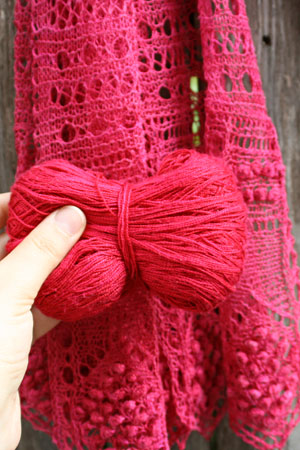 Disregard the pasty whiteness of my skin: the colors of the skein and the scarf are accurate.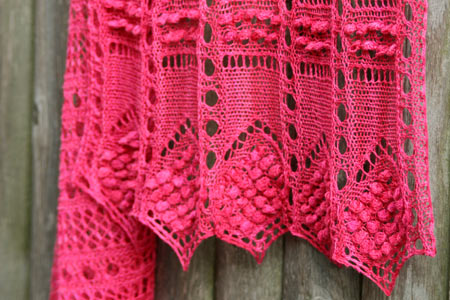 Perhaps with some time I'll see the pattern past the yarn – it IS gorgeous. Perhaps with some time the yarn will soften up and become more malleable. But certainly when considering silks, I'll look at others before Andrea.
0
likes