You have no idea how happy I am to have this Beast off my needles.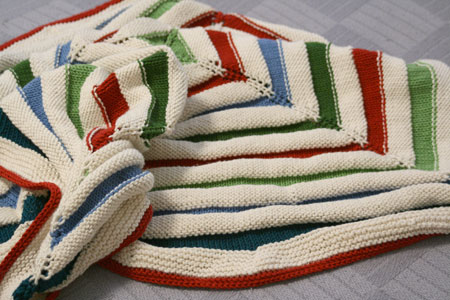 And when I say "needles," I mean needles – four long circs, each barely containing 150 stitches. Yep, I was working 600-stitch rounds towards the end of this project. No wonder the last few stripes took forever to finish!
Knitting this blankie reminded me how cumbersome large cotton projects can get. Maneuvering this puppy on my lap, especially in this heat, was not exactly the most enjoyable part of this project. It's nothing new… I've knit cotton blankets before! But we knitters have a way of erasing negative connotations associated with a project, and happily diving into the deep end of the pool again and again. I think it's probably similar to loving your kids, forgetting the pain of childbirth, and having more.
Now that I'm finished…
Oh, wait, I'm not actually finished. There's that little detail of weaving in the ends: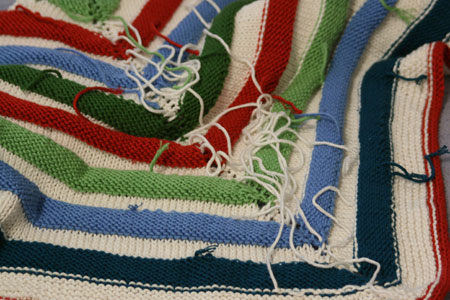 Gah! Even though I wove in many ends as I knit, a bunch more are screaming for my attention. I will weave you in, you little beasties! I will weave you in good!
Tomorrow stay tuned for a very special Eye Candy Friday: Sockapalooza edition!
0
likes