Hey, that looks familiar!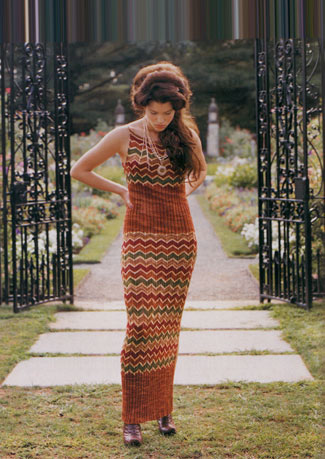 Formerly known as "the Egyptian dress," it's Cleopatra from Annie Modesitt's new book, Romantic Hand Knits
. I hardly remember knitting the sample, but there it is – finished and ready to go.
The other patterns in the book are equally inspiring. If you'd like to see some photos and read a review or two, visit Claudia, Colleen, Christie, or all three!
All I'd like to add is that the stylist, Karen Schaupeter, did an amazing job. Every outfit is stylish and insightful, perfectly showcasing the handknit item without looking haphazard. You know the gorgeous Show-Off Ruffle Skirt in Lace Style
that looks so… wrong on the model? Yeah, Romantic Hand Knits styling is the opposite of that.
Although many of the projects in this book are drop dead gorgeous, I don't think I'll be knitting any of them. In fact, going through this book caused a little lump to form in my throat. Lately this lump has been forming any time I leaf through a pattern book focusing on women's wear, and I think it's time I process my feelings and come clean to my friends.
I don't think I'm a sweater knitter.
At first, several years ago, I knit (women's) sweaters to see if I could do it. Could I make a sweater which fit decently? Could I make the sleeve cap fit into the armhole? Could I accommodate small shoulders, big biceps, a curvy figure, and so on? What could I learn about finishing or estimating yardage?
Once I knit a few sweaters and started to formulate answers to some of these questions, my focus shifted to the actual process of knitting. The actual handling of the yarn, the feel of the knit fabric, the soothing stitches, the casting on, the slickness of the needles, the smoothness (or furriness) of the yarn… Process knitters like me know exactly what I'm talking about.
And if I'm knitting for the process alone (and I am), I'd rather knit something other than a sweater. I enjoy knitting accessories like a gazillion times more than I enjoy knitting sweaters. Shawls, hats, bags, socks, scarves, mittens, even baby things – I'm still entertained by them. Each one is a chance to try out something new, but on a much smaller scale than a sweater. Process knitter satisfied? Check!
My love for the art form of "sweater knitting" is dwindling and disappearing. Patterns for lace stoles, baby blankets, and mittens are overtaking the space once bursting at the seams with sweater patterns. And the mere act of looking at sweater patterns makes me feel unsettled, causing the disturbing lump in my throat. "I admire you, but I don't want to knit you, or the likes of you."
You know what's really weird? Somehow I feel like I'm not a "complete" knitter unless I'm cranking out sweaters. Do you ever feel that?
I must say I am relieved right now. I feel that by revealing my true feelings to you, I now have permission to never knit another women's sweater again. So liberating.
1
like