Well, thanks! You certainly made me go from 'pretending' to actually 'feeling' utterly fabulous! Combined with a mention on the CRAFT Blog and BlogHer, and I'd say I made out pretty well for a Monday! Cocktails all around!
Seeing that the Underpants Blankie is getting a bit of attention, let me give you a little update.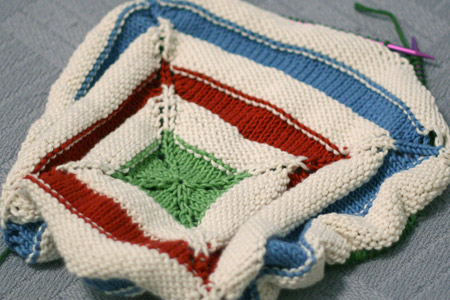 Following the hint of one of my readers, I'm knitting all corner stitches as knits – I agree that it keeps the blanket a bit more uniform. For color changes, I have completely abandoned the Russian Join and decided to weave in my ends. Some ends are woven in using the Overcast Method, but most are dangling in the back, waiting to be woven in at some point in the future.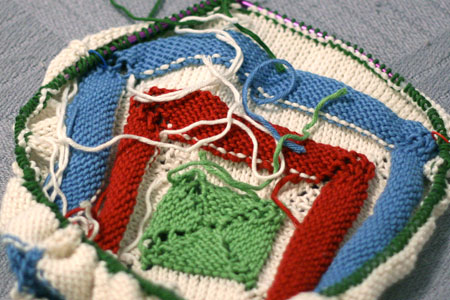 I really don't think it's that bad; the more I knit, the bigger the stripes get, the less frequently I'll have to weave in the ends. I even did a little math (there's a square root of two in there, oh, my!) to figure out the number of stripes in this blanket. Now I have an accurate sense of my progress without taking the blanket off the needles and measuring!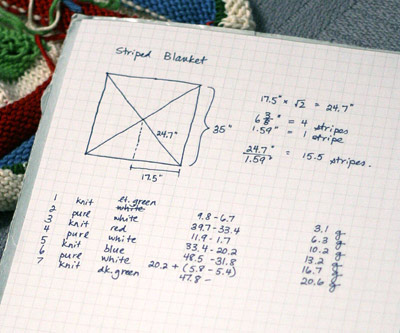 For a square that's 35″ along one side (I figured that was a good size – I can always size down if I'm running out of yarn, or size up if I feel I can keep going), I will need to knit about 15-16 stripes. That's counting all stripes – white and various colors. Right now I'm working on stripe #7.
You'll notice that I'm also keeping track of how many grams each stripe eats up. This way I know if a partial skein will be enough for a stripe, or if I'll have to join a second ball to complete it. A little digital scale is all it takes :).
0
likes