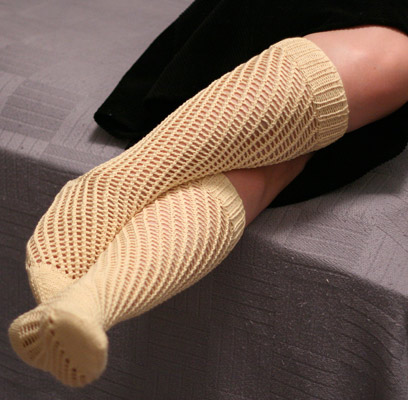 Is it so wrong to put on a flirty skirt and come-hither knee highs, sprawl on the bed, and imagine oneself to be utterly fabulous?!?
I think not.
Pattern: Fishnet Knee-Highs from Knitting Lingerie Style
by Joan McGowen-Michael. Love. this. book!
The pattern in my copy of the book appears to be incorrect, but fortunately Joan M-M e-mailed me the proper instructions. It's not clear why her original notes were so heavily edited, or why the errata have yet to appear on the HNA website.
Yarn: K1C2 Wick, 3 skeins of color #120, cream.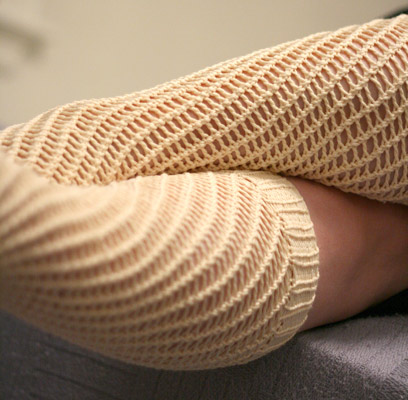 I'm very impressed with this yarn. Very. It was pleasurable to knit with it, and I'm amazed at how well the knee-highs stay on my legs! The fabric is so stetchy and comfortable, these handknit knee-highs stay up better than nylon ones! The yardarge in a skein is quite impressive, too.
Needles: US 4 (3.5 mm) and US 6 (4.0 mm) double-pointed needles. Nothing special – Susan Bates
or Boye
. My use of US 4 dpns is purely accidental – the pattern suggested US 3 for the lower portion of the leg, and I thought that's what I was using, until the Knit Chek
proved me wrong :).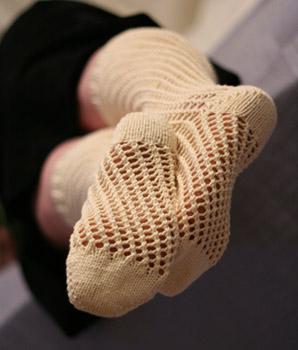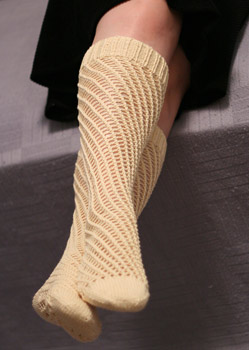 I used two noteworthy techniques in this project: Judy's magic cast on which I extolled here, and an invisible tubular bind-off for 1 X 1 rib, à la Montse Stanley
. Love 'em both!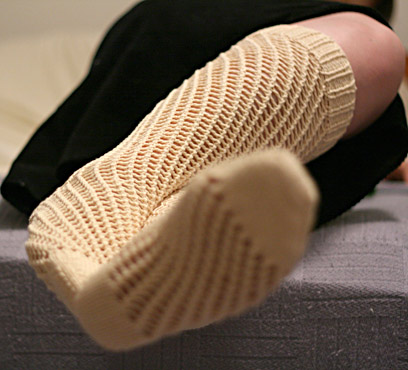 In conclusion, I adore these knee highs! I adored knitting them, I adore the way they fit, and the way they look. Concession of their apparent impracticability is therefore entirely irrelevant :).
0
likes