I'm not big on "stash busting." I have never taken a pledge to "use only stash yarns" for some period of time, and I don't think I ever will. Whatever modest stash I have, I love – it's composed of yarns and brands that I consider timeless and practical. Today I may be into cabled sweaters, and tomorrow into lacey scarves, and the next day into Fair Isle hats – my stash can satisfy all my moods, with many of the yarns being able to serve double duty. Since I can always find a project to use up my yarns, what's the rush? Why stash bust? I figure, if I don't use stash yarn this month, then I'll use it the next!
One particular member of my stash, however, has gotten out of control.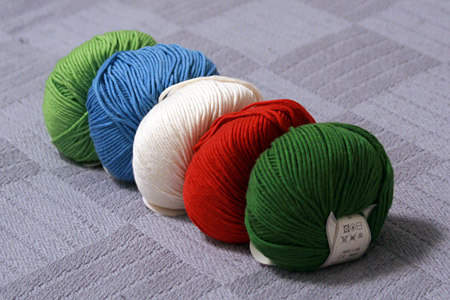 Although I like this yarn very much, my compulsion to buy a few skeins of many different colors left me in a bit of a pickle: what to do with all that yarn? The small quantities and multi-colored palette no longer make it a practical stash yarn, so I figured I better devise a way to get it out of here!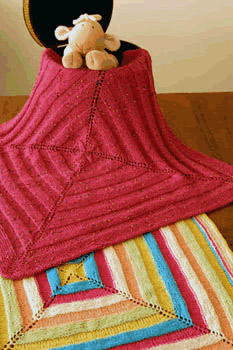 Ah, yes, what a clever solution! A little multi-colored blanket out of machine-washable cotton/acrylic is just the thing! This blanket has a number of things going for it:
It's knit from the center out, so I can implement a bit of the "knit until you run out of yarn" rationale.
Knit and purl stripes are used, so the blanket will not curl.
The designer gives very specific instructions – start with Emily Ocker's Circular Cast On, and use the Russian Join to splice yarn at color changes. Yes, ma'am!
Now, what about the sequence of colors? Should I go with a rainbow, fading from red to violet? No – I'm missing some critical components, and I have a whole bag of "natural" that won't fit in. Place the stripes in a random sequence? No – the colors are quite saturated and I think gaudiness will follow randomness. Pick two or three colors only and stick to them? No – I want to stash bust a little bit of every color, if possible.
Then, as I was getting dressed this morning, I was visited by Mistress Inspiration herself: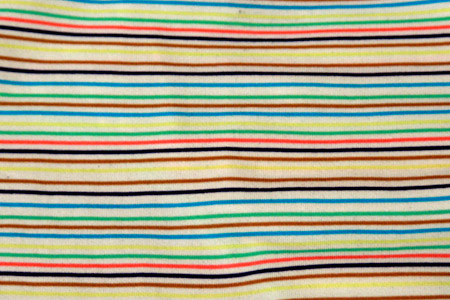 Aha! I can alternate colored and white stripes, which will allow me to dip into many different skeins without creating chaos!
And what is the source of this inspiration?
I see London, I see France,
I see Kathy's …
Note: that's not me in the photograph. You know, just in case there was any doubt :).
You. Closer than family. Indeed.
0
likes