I'm happy to report that progress has been made in the planning of both projects, The Bag and the Fishnet Knee-Highs! But let's talk about them one at a time – knee-highs today, and the hemp bag some time next week.
It seems that I'm not the first person (not by a long shot!) to notice that the pattern as written does not evolve into the photographed knee-high! Several readers left me comments to that effect, and there's even a thread on the Knitty forum about it.
Last night I received a thoughtful note from Joan M-M: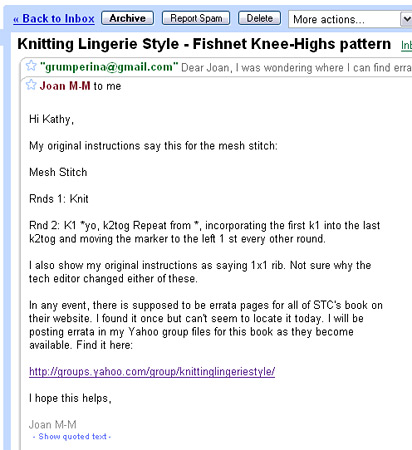 Aha! That's more like it! Knee highs, here I come!
Let's finish by discussing the strangely fascinating Wick and the intriguing toe construction presented in the pattern.
A yarn composed of 53% soy and 47% polypropylene immediately reminds me of skiing clothes. Any skier will tell you that a base layer composed of a moisture-wicking fabric is paramount to a pleasant skiing experience, and polypropylene is one commonly-used synthetic with moisture-wicking properties. I find my polypropylene gear comfortable and well-suited for its purpose, so my first reaction to Wick was, "it's about time someone put that into a sock yarn!"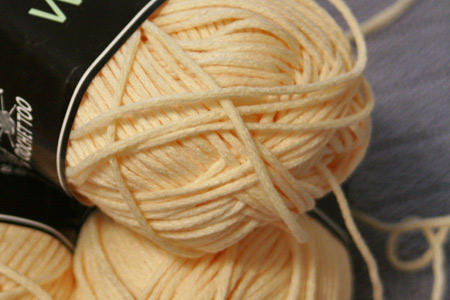 However, it's not surprising that Wick feels a little… synthetic, acrylic, not natural, if you know what I mean. Soy fiber on its own is already a bit slick and snaky, in my opinion. When it's combined with the synthetic polypropylene, let's just say I have no trouble imagining that Wick is extruded out of one of those pasta machines ("spinneret"), no spinning wheels in sight.
So Wick definitely feels synthetic, but that doesn't mean I don't like knitting with it! In fact, it lacks most properties that drive us away from acrylic yarns! It's not crunchy, it doesn't feel sticky, and the fibers don't cling to one another. Rather, it's incredibly soft, springy, and has the same amount of bounce as wool, I'd say. Knitting with it is effortless (save for when I catch the fiber on something and it distorts a bit too easily), and the resulting fabric seems to have good drape and integrity. How the socks wash, wear, and wick away moisture is a question for the future…
Now, about that toe. Basically, you knit a little trapezoid which goes on top of your toes, then knit an identical trapezoid to cover the bottom of the toes while simultaneously joining the two trapezoids together! Sounds familiar?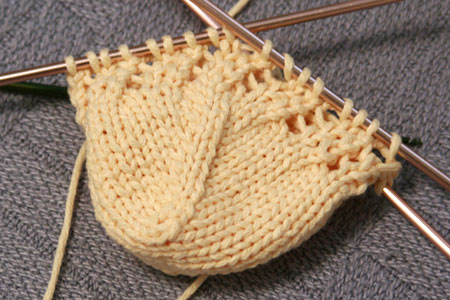 I think this method of making the toe is quick and easy, looks good and functions as intended. Is it refined, methodical, or clever? I'd say no. Considering that you start with a provisional cast-on anyway, might as well work short rows, right? In fact, I think I might go with that when I start over…
0
likes