Glancing at my gallery of completed projects, it's clear that symmetry is not at the forefront of my mind.
In each of these instances, knitting one sock to be the mirror image of the other would have been a nice touch. In each of these instances, doing so would be relatively simple – no complicated math or crazy calculations. Just reversing the stitch pattern, that's all.
So, why not?
Most often it just didn't occur to me until I was done! Silly me.
The designer of the Scala socks must have had dorks like me in mind when she wrote her pattern. Very casually she mentions, "To achieve an interesting symmetry you may work the cables of your second sock in the other direction: just start the pattern in round 13."
Right! Symmetry! D'oh! Thanks for reminding me!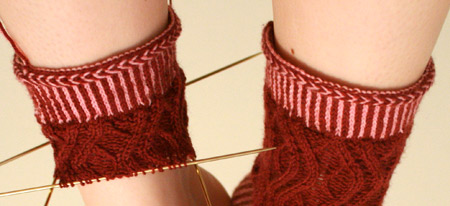 Not only did I start the second sock at round 13, I reversed the direction of the decorative edging as well. Just a little prompting and I got all symmetried-out :).
No dud photos for you today, but have fun figuring out how I captured the image above (here's a hint :)).
Tomorrow: I reveal the identity of the 750th Jaywalker to grace the gallery, and the prize given to its lucky knitter! It's truly Eye-Candy-Friday-liscious!
0
likes