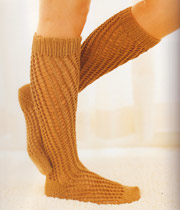 Cynthia at FuzzyMabel saved the day: not only did she have Wick in a matching dye lot, the shipping was free!
Let's see, Fishnet Knee-Highs: 3 skeins of Wick (check! all the same dye lot, too!), pattern in Knitting Lingerie Style
(got it!), size 3 dpns (yup!), size 6 dpns (ditto!)…
Ready to go!

I'll tell you about knitting with this very interesting soy/polypropylene blend yarn and the equally-intriguing toe instructions (not short rows! not figure 8! not Turkish cast-on!) another time, because I've got bigger fish to fry right now: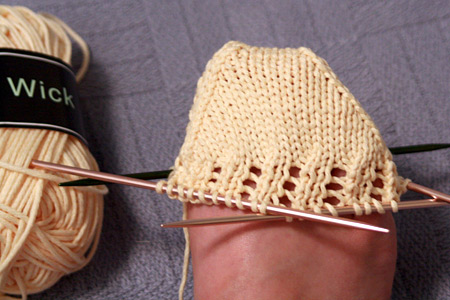 Dude, it doesn't look like the photo! Specifically, it's much less lacy. Even more specifically, I think the photographed sock uses something like *yo, k2tog, while the instructions say, *k1, yo, k2tog. And the ribbing in the photo is 1 X 1, contrary to the written instructions' 2 X 2.
Anyone know where the errata are?
I e-mailed Joan yesterday, waited for a bit, then decided to contain my impatience by considering another project.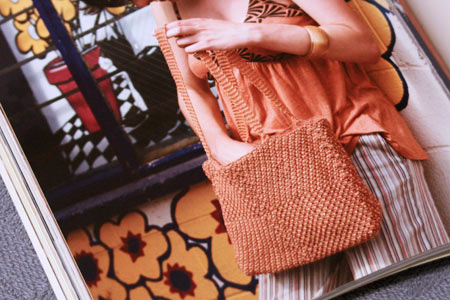 Cute, eh? It's Wendy Wonnacott's The Bag from No Sheep for You
.
I've had an urge to knit with twine-y yarn lately – linen or hemp – and The Bag could be a perfect little experiment, since I haven't used either fiber before. The issue is that the pattern uses two different colors, and I'm wondering if I can get away with using only one. On the one hand, I can't tell where 'cinnamon' ends and 'pumpkin' begins in that photograph, so I bet it will look fine as a solidly-colored fabric. On the other hand, maybe it will look super-fantastic if two highly contrasting colors are used! I have no idea!
Has anyone knit this pattern yet?
I e-mailed Wendy yesterday, waited for a bit, then decided to contain my impatience by considering another project.
The futile chaos that followed is best left unrecorded.
Why this frenzy all of a sudden? Is the current WIP lineup not up to par? Sidewinders, Scala socks, Fir Cone scarf, not to mention a few truly antique goodies at the bottom of the knitting basket. Sigh.
Is it so wrong that I just wanted to cast on something brand new??? But I have to be smart and patient when starting new projects, I've learned (or you know what happens…). So, for now, I've refilled my patience bucket, because what I really want is a hemp The Bag and pretty Fishnet Knee-Highs, nothing else.
0
likes